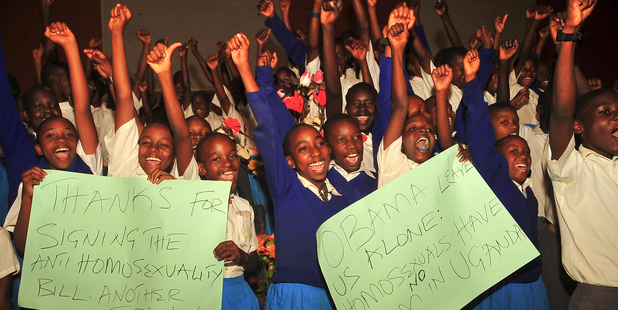 Ugandan pupils from different schools take part in an event organised by born-again Christians to celebrate the signing of a new anti-gay bill. Photo / AP
Uganda's president has signed an anti-gay bill that provides for prison sentences ranging up to life behind bars, saying it is needed because the West is promoting homosexuality in Africa. Arrests of gays were expected as a result, one politician said.
The new law goes into effect immediately and calls for first-time offenders to be sentenced to 14 years in jail. It sets life imprisonment as the maximum penalty for "aggravated homosexuality," defined as repeated gay sex between consenting adults and acts involving a minor, a disabled person or where one partner is infected with HIV.
UN High Commissioner for Human Rights Navi Pillay warned that the law would institutionalise discrimination and could encourage harassment and violence against gays.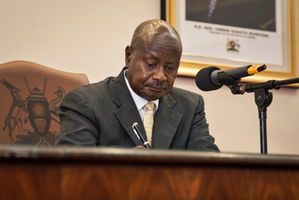 The law is expected to send the country's beleaguered gay community further underground as the police try to implement it amid fevered anti-gay sentiment.
At least six people have already been arrested over alleged homosexual offenses and more than a dozen have fled Uganda since lawmakers passed the bill in December, according to a prominent Ugandan gay activist, Pepe Julian Onziema.
"The president is making this decision because he has never met an openly gay person. That disappoints me," he said.
President Yoweri Museveni signed the bill at the presidential palace as government officials, journalists and Ugandan scientists looked on. Government officials applauded after Museveni affixed his signature. The scientists had written a report which found there is no proven genetic basis for homosexuality, and which was cited by Museveni in backing the bill, claiming it disproved that people can be born homosexual.
"I am officially a criminal for being a lesbian, something I have no control over."
Some European countries have threatened to cut aid to Uganda if the measure was enacted. US President Barack Obama warned that signing the bill would "complicate" the East African country's relationship with Washington. After Museveni signed the bill, the White House said the US would urge Uganda's government to repeal the "abhorrent law".
"As President Obama has said, this law is more than an affront and a danger to the gay community in Uganda, it reflects poorly on the country's commitment to protecting the human rights of its people and will undermine public health, including efforts to fight HIV/AIDS," the statement said.
Read more:
• Obama: Anti-gay bill step backward for Ugandans
• Ugandan minister: We are 'tolerant' as gays 'not slaughtered'
But in signing the legislation passed by lawmakers, Museveni said he rejected such reaction as interference in Ugandan affairs. A similar measure signed into law recently in Nigeria by its president.
"We Africans never seek to impose our view on others. If only they could let us alone," Museveni said. "We have been disappointed for a long time by the conduct of the West. There is now an attempt at social imperialism."
Museveni accused "arrogant and careless Western groups" of trying to recruit Ugandan children into homosexuality, but he did not name these purported groups.
Museveni said he believes Western homosexuals have targeted poor Ugandans who then "prostitute" themselves for the money, an allegation repeated by the bill's Ugandan defenders. Museveni did not cite any examples of people he called "mercenary homosexuals".
Some critics believe Museveni signed the bill in hopes of galvanizing political support within his party, the National Resistance Movement, ahead of an upcoming meeting that is expected to endorse him as the party's sole choice in the 2016 presidential election.
Fox Odoi, a Ugandan lawmaker who was once Museveni's legal adviser and the only legislator who publicly opposed the anti-gay measure, predicted more arrests over alleged homosexual offenses now that the bill is law.
"I find it utterly primitive," he said. "But the president doesn't think so. It is a very dark day for the gay community. It is going to result in big harassment of gay people."
The bill in its original draft called for the death penalty for some homosexual acts. That penalty was removed from the legislation following an international outcry.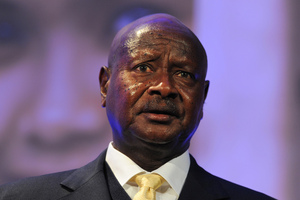 The bill is widely popular in Uganda, where it has been championed by Christian clerics and many politicians. Ugandan schoolchildren from various schools in the capital, Kampala, celebrated after Museveni signed the bill. With big smiles on their faces and arms stretched in jubilation, they held placards including one that said "Obama leave us alone: Homosexuals have no room in Uganda."
The anti-gay measure was introduced in 2009 by a lawmaker with the ruling party who said the law was necessary to deter Western homosexuals from "recruiting" Ugandan children.
That legislator, David Bahati, said Monday that the bill's enactment is "a triumph of our sovereignty, a victory for the people of Uganda, the children of Uganda".
"Nobody should be discriminated against or punished for who they are or whom they love. Sad day for Uganda and the world."
Several Ugandan gays say Bahati and other political leaders were influenced by conservative US evangelicals who wanted to spread their anti-gay agenda in Africa.
South African Nobel peace laureate Desmond Tutu said the law recalled sinister attempts by Nazi and apartheid regimes to "legislate against love", while Amnesty International called the bill a "horrific expansion of state-sanctioned homophobia".
"I am officially a criminal for being a lesbian, something I have no control over," Uganda gay rights activist Kasha Jacqueline also wrote on Twitter.
Homophobia is widespread in Uganda, where American-style evangelical Christianity is on the rise.
Gay men and women in Uganda face frequent harassment and threats of violence, and rights activists have reported cases of lesbians being subjected to "corrective" rapes.
In 2011, prominent Ugandan gay rights campaigner David Kato was bludgeoned to death at his home after a newspaper splashed photos, names and addresses of gays in Uganda on its front page along with a yellow banner reading "Hang Them".
Museveni earlier this month also signed into law anti-pornography and dress code legislation which outlaws "provocative" clothing, bans scantily clad performers from Ugandan television and closely monitors what individuals view on the Internet.
Leaders, gay people react to Uganda anti-gay bill
A look at global reactions after Uganda President Yoweri Museveni signed a controversial anti-gay bill that calls for harsh penalties, including 14 years in jail for first-time offenders, and life imprisonment as the maximum penalty for, among other offenses, repeated gay sex between consenting adults.
---
Kenyan prize-winning writer Binyavanga Wainaina, who came out as gay last month in an online essay, said Museveni is looking to create a political wedge issue that will help his constituents forget about government corruption and a lax economy.
"By the time the next election happens, mysterious opposition figures are going to be arrested for being homosexual, can we bet? Cause all you need is a suspicion, isn't it?" Wainaina told The Associated Press. "They are never going to police it in an accurate way."
---
Ugandan gay activist Dr Paul Semugoma, who avoided deportation from South Africa last week, said: "It is sad that they disapprove of me and consider me to be evil, unnatural and un-African because of my kind of love. What should it matter to anyone who I love?"
"It's simply politics of destruction. We (homosexuals) are convenient scapegoats to be used when they need to boost their political power."
---
Opponent of the US gay-rights movement and Massachusetts-based evangelical lawyer Scott Lively said: "I would rather the Ugandans had followed the Russian anti-propaganda model which reflects my philosophy of preventing the mainstreaming of homosexuality with the minimum limitation on personal liberties for those who choose to live discretely outside the mainstream."
---
The US national security adviser, Susan Rice, posted on her Twitter account: "Nobody should be discriminated against or punished for who they are or whom they love. Sad day for Uganda and the world."
---
"This legislation will institutionalise hatred and discrimination against lesbian, gay, bisexual, transgender and intersex people in Uganda. Its passage into law signals a very grave episode in the nation's history," said Michelle Kagari of Amnesty International.
---
"The UK strongly opposes all discrimination on any grounds. We question the Bill's compatibility with Uganda's constitution and international treaty obligations. There can be no doubt that this Bill will increase persecution and discrimination of Ugandans, as well as damage Uganda's reputation internationally," said Britain Foreign Secretary William Hague, adding he was deeply saddened by the signing. "We will continue to press the Government of Uganda to defend human rights for all, without discrimination on any grounds."
---
"This is a huge blow for anyone who values basic human rights. In the complete absence of a victim, Museveni has signed a piece of legislation that protects no one and persecutes many," said Jonathan Cooper, Chief Executive of the Human Dignity Trust, a collection of law professionals supporting groups to uphold human rights. "This bleak situation will have an immediate effect on countries like the UK, the rest of the EU, Canada and US, as people flee and seek sanctuary. The international community must do all that we can to stand in solidarity with those fighting to uphold their human rights."
---
Experience from other jurisdictions with similarly draconian laws, such as Nigeria or Russia, indicates that their implementation is often followed by a surge in violence against individuals thought to be lesbian, gay, bisexual or transgender, the International Gay and Lesbian Human Rights Commission Africa Program said in a statement. The Ugandan government has not indicated any plans to counter such violence or to investigate potential allegations of abuse, it said.
---
In Belgium, Prime Minister Elio Di Rupo, who is openly gay, said his country "firmly condemns this violation of human rights and demands that the international community react forcefully".
"Today is a very sad day for LGBT rights," he said in a Twitter post. "I am appalled by the anti-gay law in Uganda."
---
Sweden's Minister for International Development Cooperation Hillevi Engstrom said Sweden will also consider redirecting its 70 million Swedish kronor in aid to Uganda when it completes an evaluation this spring.
"I want to emphasize that our aid is not without conditions. The Swedish government puts a lot of focus on human rights," Engstrom said.
- AP, AFP