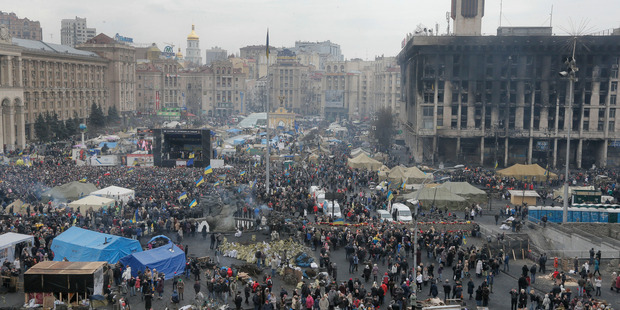 Waving placards calling for "Mother Russia" to save them, thousands of people rallied in Sevastopol to denounce political upheaval in Kiev.
"The fascists have taken power in Kiev!" shouted one speaker to the crowd of roughly 10,000 demonstrators as they waved Russian tricolours and navy banners.
While protesters in Kiev have mainly come from the country's pro-Western Ukrainian-speaking population, in ousted President Viktor Yanukovych's Russian-speaking heartland in the east and in Crimea people have been frosty if not outright hostile to the changes.
"Bandits have taken power in Kiev. I am here to protect my town," said Stanislav Bolotnikovsky, 53.
Russia has condemned the events in Ukraine as a putsch and painted the protesters in Kiev - where nationalist and right-wing groups make up a hard core - as dangerous extremists. Those sentiments were echoed yesterday in Sevastopol.
"A coup d'etat has taken place in Kiev. I don't want my children to live in a country led by fascists," said small businessman Evgeny, 39.
But the ire is not just directed against the demonstrators in the Ukrainian capital.
Instead much of the anger is targeted at Yanukovych and how he handled the crisis. "Yanukovych is not my president anymore. He showed proof of weakness by sending unprotected policemen in against armed bandits," pro-Russia protester Bolotinsky said.
Another, retiree Tatyana Segeyevna spoke about stability and the broader destiny of the country.
"Yesterday I hoped that there could be some sort of solution. Now though we have to reattach Crimea to Russia - that way we'll get stability back," she said.
Local officials in Crimea have moved quickly to quash fears of a potential separatist uprising.
Crimea's Prime Minister Anatolii Mohyliov declared that the region was ready to "follow" the decisions taken by Parliament since Yanukovych's majority there collapsed.
- AFP