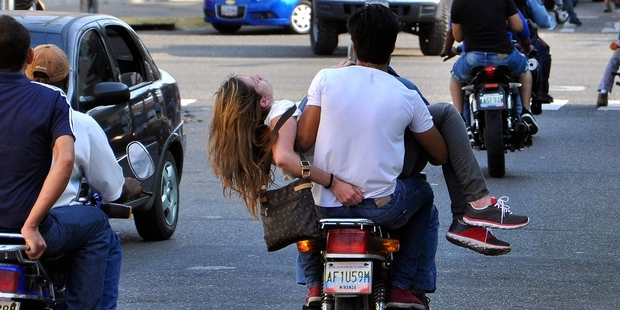 Genesis Carmona is carried by motorcycle after she was wounded in Valencia. She later died from her wounds. Photo / AP
A university beauty queen was mourned yesterday in the provincial Venezuelan city where she was slain this week during a political protest, a victim of what government opponents say is indiscriminate violence used by President Nicolas Maduro and his supporters to stifle dissent across the country.
Family members and friends of 22-year-old Genesis Carmona say the former Miss Tourism 2013 for the central Venezuelan state of Carabobo was shot down by members of the armed militias known as "colectivos" who opened fire on a demonstration in Valencia.
The government says the incident is under investigation, and Maduro said it had been "well established" by ballistics experts that the shot came from the opposition protesters.
But people at Carmona's service, who were also at the rally, said they saw a group of up to 50 men on motorcycles, armed with handguns, fire directly into the crowd of about 3000 demonstrators, setting off a panicked stampede through the street.
Kendry Gill, a 22-year-old law student, said nine people were shot, including a young woman who remains in hospital in critical condition with a perforated lung.
"It was practically an ambush," Gill said. "We're peaceful. We don't have any weapons."
Carmona, who was in her final year in a marketing programme at a university in Valencia, was not ardently political, friends and family said.
"It is horrible what is happening in this country," Gill said. "There's no food, no milk, no baby food ... That's why she was out at the protest."
The violence drew condemnation from US-based watchdog group Human Rights Watch: "Venezuelan security forces have used excessive and unlawful force against protesters on multiple occasions since February 12, 2014, including beating detainees and shooting at crowds of unarmed people."
Maduro insisted the protesters were "fascist" elements intent on fomenting a coup, and he pledged to crack down.
A judge determined there was enough evidence to detain opposition leader Leopoldo Lopez, who surrendered to authorities. The charges against Lopez include arson and criminal incitement related to a huge February 12 rally.
Carmona is one of at least eight people who have been killed during political protests roiling this South American country since rallies on February 12 ended with three deaths in the capital, including one government supporter. With even Maduro lamenting the tragedy during a speech on national TV, the young woman's death has resonated in part because she was a pageant winner in a country that has long prized its production of more Miss Universe winners than any other nation.
Her death also came amid increasing concern about escalating violence in the country, and has left many on edge as the opposition plans large rallies today.
The Government said it would send paratroopers to a border area torn by fierce clashes between police and anti-government protesters even as security forces are being accused of turning many parts of the country into free-fire zones in their bid to silence the challenge to socialist rule.
- AP