China protests about talks between leaders.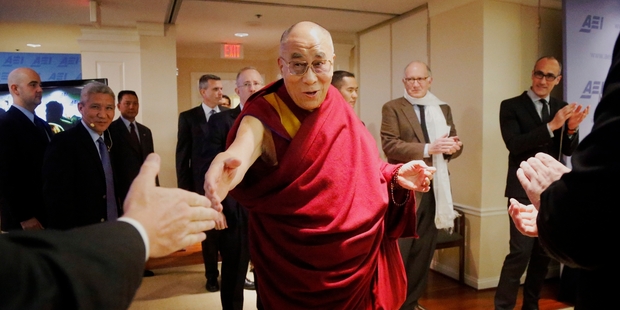 The Dalai Lama arrives in Washington ahead of his meeting with President Obama. Photo / AP
President Barack Obama met Tibet's Dalai Lama yesterday over the strong objections from China that the US was meddling it its affairs. The White House took pains to ensure the meeting was not portrayed as a conference of two heads of state.
Obama played host to his fellow Nobel laureate in the White House's Map Room rather than the Oval Office, where the President traditionally brings dignitaries for photos. Beijing decries the Dalai Lama as an anti-Chinese separatist because of his quest for greater Tibetan autonomy. The White House calls him a respected cultural and religious figure who is committed to peace.
Despite media requests, the meeting was closed to journalists, and in a departure from previous visits the Buddhist monk left the White House without speaking to reporters.
Beijing had protested about the meeting after the White House announced it. Foreign Ministry spokeswoman Hua Chunying called it a "gross interference in China's domestic politics", accusing Obama of letting the Dalai Lama use the White House to promote anti-Chinese activities.
"It will inflict grave damages upon the China-US relationship," she said.
Beijing frequently protests about meetings with the Dalai Lama, and the dust-ups have become something of a diplomatic ritual for Obama, who faced Beijing's ire when he met the Tibetan leader in 2010 and again in 2011. In his first year in office, Obama put off a meeting with the monk in what was seen as a move to placate China.
In a carefully worded statement after the meeting, the White House said Obama offered his "strong support for the preservation of Tibet's unique religious, cultural and linguistic traditions" and for human rights protections for Tibetans in China. The statement said Obama "reiterated the US position that Tibet is part of the People's Republic of China and that the United States does not support Tibet independence".
The Dalai Lama told Obama he's not seeking Tibetan independence, and both leaders said they hoped talks would resume between Beijing and the Dalai Lama's representatives.
The Dalai Lama gave up his political role as the leader of the Tibetan government-in-exile in 2011. The White House said Obama supports the Dalai Lama's approach of "neither assimilation nor independence for Tibetans". But Chinese officials denounce him as a separatist responsible for instigating self-immolations inside China.
Although the meeting was unlikely to have a long-term impact on US-China relations, it could contribute to a "souring mood" between the world's two largest economies, said Bonnie Glaser, a China expert at the Center for Strategic and International Studies.
AP