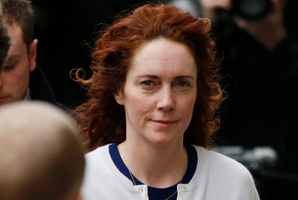 Former British tabloid editor Rebekah Brooks has given evidence for the first time in her phone-hacking trial.
The 45-year-old former chief executive of News International, Rupert Murdoch's British newspaper division, faces four charges in the long-running trial after being cleared of one charge of paying for a photo of Prince William in a bikini.
After 3 months of prosecution arguments, lawyers for the seven defendants finally began their case.
Wearing a blue dress and white cardigan, her red curly hair pinned back, Brooks was first in the witness box, where she described how she began working for the News of the World.
Shortly before she began giving evidence, the judge declared that she had no case to answer in one charge against her, that of conspiring to commit misconduct in public office.
Brooks was accused of sanctioning a payment of 4000 ($8020) to a public official for a picture of Prince William dressed as a bikini-clad Bond girl at a party at Sandhurst, the British army's officer training school.
The image was never published but led to a story in the Sun in September 2006 with the headline "Willy in a Bikini" together with a mocked-up picture of the second-in-line to the throne in a green swimsuit.
Brooks edited the News of the World from 2000 to 2003, when she moved to edit its sister paper the Sun, until 2006.
Judge John Saunders ordered the jury to deliver a not guilty verdict on the charge.
Brooks smiled as she was acquitted, although she still faces charges of conspiring to hack phones, paying an official for information and two counts of conspiring to pervert the course of justice.
In his opening statement, Brooks' defence lawyer Jonathan Laidlaw told the jury Brooks was not on trial for being the editor of a tabloid newspaper, for working for Murdoch or for the policies and corporate views of his company.
"She is not being tried because she was the editor of a tabloid newspaper. Views differ about the tabloid press and the worth or otherwise of the tabloid press within the broad spectrum of the media."
He also warned that "there are agendas" that they would "see being pursued elsewhere, so please just be careful and keep an open mind and stay focused upon what matters."
Brooks was asked by Laidlaw to describe how she had first become interested in a career in journalism.
She explained: "My grandmother, who I said lived with us, she was a writer.
"She wrote a lot of poetry and she wrote a poetry column for a local newspaper. The idea probably stemmed from her."
-AFP