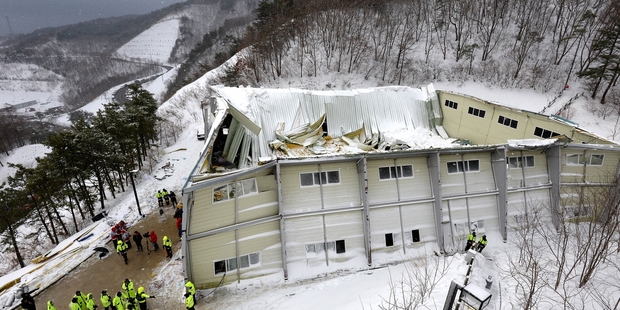 Ten people are dead and at least a dozen are feared trapped after an auditorium collapsed under heavy snow at a resort in the South Korean city of Gyeongju.
As many as 450 students are believed to have been attending a concert in the building when the roof caved in early yesterday. Nine of the dead were university students while the 10th was believed to be a party organiser, police said.
Three students and 11 party organisers remained unaccounted for. A spokesman for the local fire service had earlier said that 73 people were injured, 15 of them seriously.
Rescue workers were still searching the collapsed structure, he said. Yonhap news agency reported that police feared the toll could rise, with around 400 rescuers on the scene.
The collapse appeared to have been caused by heavy snow which had piled up on the roof of the auditorium.
- AFP