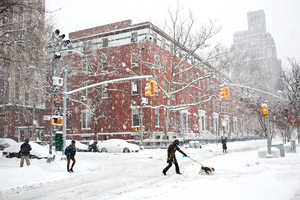 A deadly winter storm is sweeping the eastern United States, spelling drudgery for millions and tragedy for a few, including an expectant mother killed by a snowplough.
US media counted at least 11 dead as a result of the storm, which dropped a thick blanket of snow over eastern cities overnight and shut down federal Government operations in Washington.
One of the casualties was a 36-year-old pregnant woman, killed by a snowplough in a New York carpark.
Her baby was delivered alive by caesarean section but remains in critical condition.
Thousands of travellers were stranded as major air hubs such as Atlanta and New York were closed down. Washington's Dulles International reported 35cm of snow.
More than 6000 flights were cancelled and more than 3000 delayed.

Nearly 800,000 homes and businesses lost power, mainly in Georgia and North and South Carolina.
As the storm moved north, the US National Weather Service warned that the "mammoth dome" of Arctic air would bring Arctic misery to communities from Georgia to New England.
In Washington, commuters woke to find their cars buried under 30cm of snow, buses cancelled and city services struggling to keep even major roads open.
Schools were shut and the streets of the capital eerily deserted as federal workers stayed home or scraped snow off sidewalks and driveways.
New York had an easier start but was forecast to receive a heavier covering as the storm churns up the east coast.
Meanwhile, "thundersleet" - a foul mix of lightning storms and mixed precipitation - was brewing in Virginia and heading north.
Broadcasters fell over themselves to find superlatives to describe this "snowmaggedon", dubbed "historic" and "mindboggling."
"This storm is dangerous. Road conditions are treacherous," said Governor Pat McCrory of North Carolina, a state where President Barack Obama had declared a federal emergency.
The storm is only the latest severe weather to hit the eastern US in what was already the worst winter in 10 years.
The White House cancelled its daily news briefing, and federal agencies told workers to stay home.
Military personnel have also been mobilised, with more than 2300 army and air national guard pressed into action, according to a Pentagon statement.
-AFP