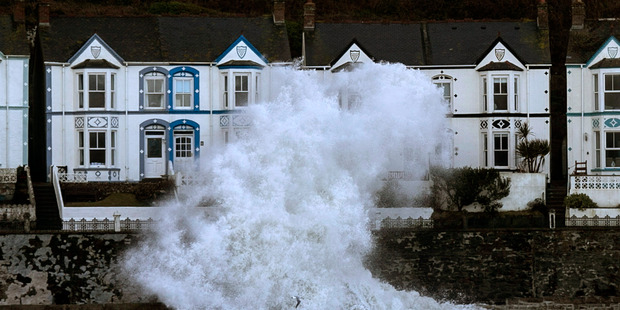 A seven-year-old boy has died after he was found by rescue crews evacuating flood-hit homes in Surrey. The parents of the boy, named locally as Zane Gbangbola, were also in a serious condition after being rushed to hospital in the early hours yesterday. The emergency in Chertsey came after vast swathes of southern Britain were flooded in more stormy weather.
Police said yesterday that they were not ruling out the line of inquiry that floodwater was a factor in the boy's death or the possibility of carbon monoxide poisoning.
Officers had been called to a house at 3.30am by the ambulance service. The boy was later declared dead at hospital while his parents - his father was reported to be Kye Gbangbola. in his forties - were described as being in a serious but not life-threatening condition. Fifteen people, including two police officers, were taken to hospital as a precaution, and later released.
Chief Superintendent Dave Miller said: "The cause of the illness is unknown, but what I can confirm is that the people who were taken ill are from a very localised area. We cannot rule out that there may be a link to flooding in the local area and while the investigation is ongoing local residents should follow sensible precautions."
Mr Miller said those living locally showing signs of diarrhoea and fever should seek medical help.
The boy's death came as southern parts of England were battered by the sixth winter storm this year with gusts of wind up to 80mph, heavy rain and "phenomenal" waves possibly reaching 45ft in height offshore.
The storm, which was expected to reach its peak overnight, is the latest extreme weather brought in from the Atlantic ocean by the jet stream and driven, say meteorologists, by a longer and more powerful than usual polar vortex.
In addition to coastal batterings, western areas of England and Wales were lashed by heavy and persistent rain last night, with the Environment Agency (EA) warning of "significant risk" of further flooding throughout Devon, Somerset and Cornwall.
Nationally, the EA issued three severe flood warnings - meaning a "danger to life" - on the Somerset Levels and at Chiswell on the coast near Weymouth. Elsewhere, there were more than 450 less-serious warnings and alerts, while the Met Office issued a severe weather warning lasting until this morning for as much as 1.2 inches of rain to fall on already saturated ground.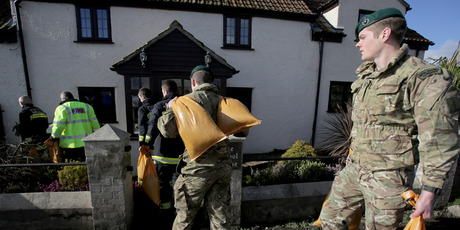 Last night, the Communities Secretary, Eric Pickles, chaired an emergency Cobra committee meeting. He reassured the public that work continues to protect homes.
Some areas are expected to have exceeded three times the long-term average of rainfall by the end of today, while parts of the Somerset Levels, where about 80 homes have been flooded, will need at least three weeks of dry weather for flood water to drain, according to the EA.
Anger continued to be directed at the EA's "failure" to dredge rivers in the area over the weekend, despite visits from David Cameron and the EA chairman, Lord Smith, on Friday, and a commitment of £10m to dredge five miles of the Parrett and Tone rivers. On Friday, it was confirmed for the first time by the EA's operations director, David Jordan, that no major dredging had taken place on the Parrett or Tone rivers in Somerset for 10 years.
Few flood risk experts had criticised this long-standing policy. Mr Cameron's new commitment to "a period of much more intensive dredging" is at odds with previous EA statements that dredging "does not prevent flooding during extreme conditions" and that dredging, a costly process, "must be repeated after every extreme flood".
The Department for Environment, Food and Rural Affairs (Defra) said that this week's reversal for "new funding" was specifically intended for this winter only.
Labour's Maria Eagle MP, the shadow Environment Secretary, said: "The flood-stricken residents of Somerset have had a horrendous start to the new year, but all they have had from the Government has been dither and delay. Just days after Owen Paterson announced that he wanted to see a concrete plan presented to him in six weeks, the Prime Minister overruled his Environment Secretary, demanding immediate dredging."
In Dawlish on the south Devon coast, engineering work continued yesterday in "difficult conditions" to repair the vital rail link that was destroyed by waves earlier last week. Exeter and Castle Cary services were disrupted by landslips.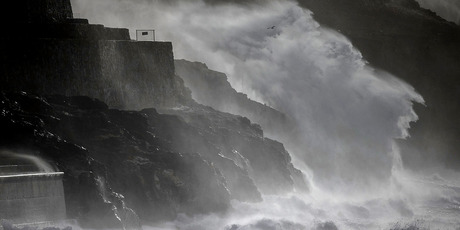 A Network Rail spokesman estimated that repairs at Dawlish could take as long as six weeks, as spray concrete and shipping containers were used to create a temporary barrier to take the brunt of heavy seas.
Jon Shaw, a professor of transport geography at the University of Plymouth, said that the track closure was "a wake-up call" and that the line would become "untenable" in the future.
He also warned that long-term sea-level rises and extreme weather could put rail lines at risk on the North Wales coast and in Ayrshire in Scotland.
An idea of the unique seriousness of the wet conditions across southern England can be gleaned from the number of severe flood warnings issued by the Environment Agency. During the floods of 2012, which caused such widespread damage, the EA issued a total of nine severe warnings. In the past two months, it has issued 131.
"It is fair to say that no individual storm has been exceptional, but the clustering and the persistence of the storms is highly unusual," said Julia Slingo, the Met Office's chief scientist. "To have this weather persisting from the beginning of the east-coast storm surge in early December through to early February and into next week is very unusual."
Go Dutch and give ground
Give land back to rivers - this is the latest solution that Europe's most flood-damaged country is using to protect itself.
Dutch experts suggest that Britain could learn from the Netherlands, which has a clear government strategy, strong dykes and now a €2.3bn (£1.9bn) project relocating 200 families for 34 river-widening projects which should be complete by 2015. The Netherlands suffered devastating sea floods in 1953, and river floods in 1993 and 1995.
Hans Brouwer, senior expert at Ruimte voor de Rivier (Room for the River), says if you take on nature, you will lose. "The solutions must fit your situation and geography," he says. "But I'm sure the concept of Room for the River could be applied in many places. In Holland, we have a history of fighting against nature, but now we are finding a way to co-operate. The cost of damage is much higher than investing in prevention.
"Room for the River is a simple idea, that you can have high dykes but also give space back to the river system so the water level goes down. The government policy was developed to increase rivers' maximum discharge capacity from 15,000m3/sec to 16,000m3/sec by giving back 4,000 hectares of land."
Government stategy is key, says Roeland Hillen, director of a water management project to strengthen dykes, dams and dunes for Rijkswaterstaat, part of the Dutch Ministry of Infrastructure and the Environment. "I would say a proper strategic approach is very important for the government to have," he says. "In the Netherlands, we have defined the standards of our defences and every five years we check whether the water defences are still in shape in relation to rising sea levels and increased river discharges. If not, we take measures.
"I have seen the pictures of flooding in the UK and felt very sorry for the people who have suffered. What I think could be helpful is to take the same considerations we have ... [built] flood defences ... must be very reliable, but other answers could be dredging a river, adding flood area to a river and making sure people are aware they live in an area prone to flooding, so must accept a flood might happen and they can cope with it."
- Independent