Friends say man who washed up on atoll ate on land what he believed would keep him alive at sea.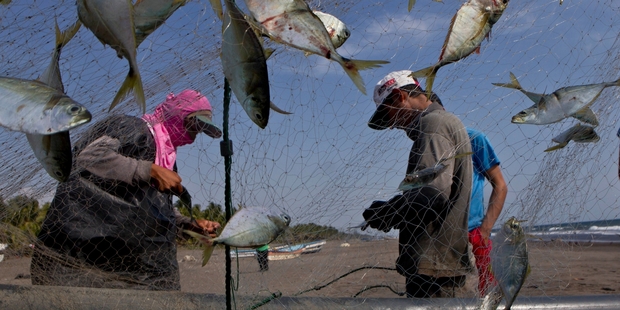 Well before his incredible tale of survival in a 13-month Pacific odyssey, Jose Salvador Alvarenga consumed the very things he claims saved him - raw fish and turtle blood.
Fellow fishermen in Chocohuital, a village on a lagoon in the southern Mexican state of Chiapas, remembered Alvarenga as a good man with a quirky diet that they say gives credence to his amazing story.
The burly man they knew as "La Chancha", the Spanish word for a sow, would gobble up anything, including dog food.
"He wasn't picky. He ate everything. When he grabbed sardines, which we use as bait, we would tell him 'no Chancha!' But he would say with his husky voice: 'Yes, you have to try everything," his boss Bellardino Rodriguez said.
"We think that saved him," Rodriguez said as fishermen rested on hammocks under huts on the shore of the lagoon lined with small, single-engine vessels.
Alvarenga, a 37-year-old native of El Salvador, claims he survived more than a year lost in the Pacific after leaving Chocohuital on a fishing expedition aboard a 7m fibreglass boat in late 2012.
Alvarenga says he endured the 12,500km journey, which ended in the Marshall Islands last Friday, by eating raw birds and fish as well as drinking turtle blood, his own urine and rainwater.
But Alvarenga also said that his companion, Ezequiel, starved to death after four months because he could not stomach the raw diet and that he had to push his body overboard.
The victim's family, who live in the village of El Fortin, said he was a healthy 24-year-old man and that they were surprised he was unable to eat. Alvarenga said he believed the man was a teenager.
"I think that when you're out there, you want to survive. I can't believe that he refused [to eat]," said his brother, Romeo Cordoba Rios.
"The only thing we want is to know what was the last thing that he told this man and what he did with my brother's body," Cordoba Rios said, adding that his mother was "still crying for her son".
The family, however, does not want a criminal investigation against Alvarenga.
In Alvarenga's hometown in El Salvador, Garita Palmera, Manuel de Jesus Diaz, 39, said fishermen had to have faith in a higher power.
"When one is at sea, one is in the hands of God," he said. "We go out almost without anything, our clothes to cover us from the sun and water for the voyage."
Officials in the Marshall Islands said Alvarenga was to depart the tiny Pacific for Hawaii, before travelling to El Salvador or Mexico.
But Ezequiel's family want Alvarenga to come and explain what happened on what was supposed to be a one-day trip.
The family said Ezequiel decided at the last minute to join Alvarenga on the fishing trip.
But once out, they were apparently caught by powerful northern winds. Then their engine, their GPS system and their radio broke down.
In a final radio call, Rodriguez recalled, Alvarenga said: "The swells are more than 4m high. They're godawful!"
After the pair disappeared, fishermen say they searched for four days with the help of a government helicopter to no avail.
This past week, the fishermen have been awestruck after seeing images of Alvarenga on their small television with a bushy beard and walking slowly.
He looked stocky despite his struggle to find food in the middle of the ocean, but Rodriguez said Alvarenga was a muscular man before his disappearance.
Experts say it is theoretically possible to survive such a journey, though many have a hard time believing his story. But not his friends in Chocohuital.
Rodriguez said the boat seen in news footage belongs to the community, with the fishing cooperative's name and licence number.
Fisherman Erick Manuel Velazquez said most in the village have contingency plans in case they get lost at sea, but that Alvarenga had the most unusual preparation.
"This man ate everything. He would even eat dog food," Velazquez said. "He would tell us, 'One day, I'll have to stay at sea'."
Local people believe turtles have magical effects on health, but Alvarenga liked drinking their blood.
"I have tried it, but because I was sick with asthma and when it was over, I stopped drinking it," Velazquez said.
Guillermina Morales, a woman who runs an eatery, doubted that Alvarenga, who moved to Mexico 15 years ago, had lost his head.
"If he was crazy, he wouldn't have survived. Here, he acted like an honorable and working man," she said. "He was also brave."
- AFP
A year at sea: A question of survival
The story of a Salvadoran fisherman who says he survived more than a year adrift on the Pacific Ocean raises many medical questions. The Associated Press spoke with Claude Piantadosi, a professor of medicine at Duke University and author of the book, The Biology of Human Survival,to find out what is physically possible and for his view on the tale of Jose Salvador Alvarenga. This is an edited version of the interview:
How long can a human survive without any water, or without any food?
The average is about 100 hours (approximately four days) without water and about five or six weeks without food. You can survive much longer with just a little food, although you'll lose weight and run into vitamin deficiency problems.
So it would have been vital for Alvarenga to have collected both food and water during his journey. The Pacific's regular squalls would have provided some rainwater that he could have scooped from the bottom of his boat.
How important is shade?
Absolutely critical. You get significantly warmer in direct sunlight and sweat more. The pictures of the boat show a fibreglass box in the middle, which he could have sheltered in, and any type of canvas would have helped keep him out of the sun.
Alvarenga described catching turtles, fish and birds with his hands and eating them. Is that plausible?
Over time, the underside of the boat would have become its own ecosystem as barnacles, seaweed and jellyfish collected there, which in turn attracts other creatures. How often can you grab a turtle or catch a fish with your bare hands? I don't know. Bird blood is no more salty than human blood, so would have provided some hydration.
Without fruit and vegetables, wouldn't he have developed scurvy?
Actually, unlike humans, birds and turtles make their own vitamin C, so fresh meat from those creatures, especially the livers, would provide sufficient vitamin C to prevent scurvy. British sailors used to get scurvy because they ate preserved meat, which had oxidised and lost its vitamin C.
Wouldn't he get skin sores from all that water?
He'd need to keep mopping himself off and stay dry to avoid that. People on life rafts, or say a piece of floating wood, can develop real problems with macerated skin. Staying out of the water is a huge advantage.
There's some suggestion that Alvarenga was a large man before he left. Would being overweight provide an advantage?
It would be a significant advantage. He could live off his own body fat and muscle for a long time, so long as he was able to get some water, vitamins, micronutrients and a little protein.
Didn't he look too healthy, even a little bloated, when he arrived? The appearances of malnutrition can manifest differently depending on how short you are on calories or protein. Some underfed children in Africa look like stick figures, others get swollen. It's only in end stage starvation that people get that really emaciated appearance.
Alvarenga seemed to give confused and contradictory answers to authorities. What kind of psychological effects would such a journey have?
I'm not an expert in psychiatry, but we all have the feature of resilience. It can be trained or even learned on the fly. For instance, soldiers learn to deal with combat horrors. Presumably he was out on the ocean every day as a fisherman before he went missing, so he would have been familiar with the environment and with adapting his behaviour to the elements. If he had nutritional deficiencies, he may have developed some dementia or other syndromes, which compromised his mental state. I'm not surprised that some of the answers he gave were a bit off and he wasn't able to remember things.
How long would it take to recover from a voyage like this?
Hydration can be restored in just a day or two. Re-feeding can be tricky after a long period of starvation, as the body can lose the ability to absorb nutrients. Muscle rehabilitation and physical therapy can take several weeks.
Bottom line, is Alvarenga's story plausible?
Yes. It's unusual to say the least. But reports out of Mexico indicate he did go missing in late 2012. As we have gotten more information, it's probably likely that he did survive at sea for 13 months.
- AP