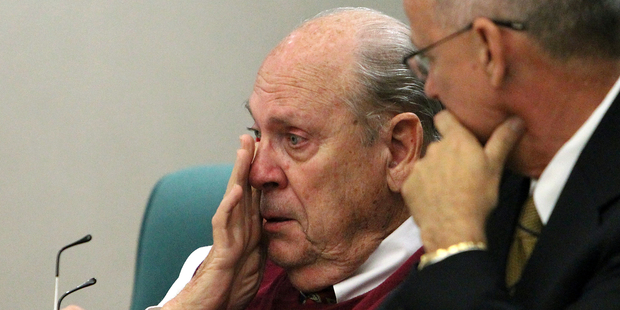 A retired police officer has appeared in a US court charged with shooting a man in a cinema after an alleged argument over texting.
Both Curtis Reeves, 71, and the widow of the man whom he is accused of murdering shed tears yesterday as a judge heard evidence ahead of deciding whether the former officer should receive bail.
According to reports from CNN, witnesses told Judge Pat Siracusa how Mr Reeves took issue with Chad Oulson during trailers before the film had begun.
The court heard how the 71-year-old spoke to the management of the cinema, at which point the pair exchanged words.
Mr Oulson was then said to have thrown a bag of popcorn, before Mr Reeves allegedly pulled out a gun and fired a single, fatal shot.
Charles Cummings, who was at the Tampa Bay, Florida cinema with his son, also gave evidence.
At the time of the shooting he told reporters: "I can't believe people would bring a gun to a movie."
Mr Cummings said that the man fell back on to him and his son after being shot, with a nurse then coming to his aid to perform CPR.
Both Mr Oulson and his wife, who was wounded, were taken by ambulance to a nearby hospital but he died shortly after arriving.
The court also heard from Reeves' daughter yesterday, who pleaded for him to be released on bail on the grounds of arthritis and general ill health.
Unusually for a bail hearing, the extent of the evidence given was such that the day ended without a decision from the judge. The proceedings will resume at 10am local time on Friday.