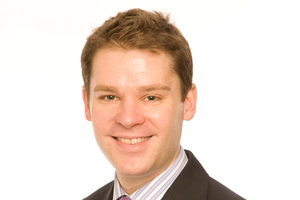 A New Zealand-born British lawmaker who organised a Nazi-themed stag party in France is to stand down at the next general election, he's announced.
MP Aidan Burley said he would not be seeking re-election in the May 2015 polls, following a "difficult time".
The 35-year-old was sacked as parliamentary private secretary to Britain's transport minister after newspapers published pictures of the boozy bash at a posh French ski resort in December 2011.
"After a difficult time I have decided to announce I will stand down at the next general election," he said in a statement.
Auckland-born Burley was a backbencher in Prime Minister David Cameron's Conservative Party representing Cannock Chase, an electorate near Birmingham in central England.
"I will continue to work for the people of Cannock Chase until that election, and look forward to supporting my successor, as soon as he or she is selected, to ensure that Labour have no chance of re-taking this seat."
The constituency was held by Labour since its creation in 1997 but Burley won it in 2010, taking 40 per cent of the vote.
Conservative Party chairman Grant Shapps said Burley had a strong record in his seat and had served his constituents with dedication and commitment.
"I wish him the best of luck with whatever he does next," he said.
A Conservative disciplinary investigation found Burley had been "stupid and offensive" in organising the stag party, but was not a racist.
The inquiry concluded two years ago but the verdict was only released after legal proceedings in France concluded last month.
The groom, Mark Fournier, was fined the maximum 1,500 euros for wearing a Nazi uniform and insignia - outlawed in France - and ordered to pay a further 1,000 euros in a civil action.
British stag parties, held before a man gets married, are typically jovial, alcohol-soaked nights out, often with the groom-to-be in embarrassing fancy dress.
Burley, the best man, had purchased the costume. He argued it was in the British comic tradition of making fun out of the World War II enemy.
The Conservative investigation accepted that no formal complaints about the party were made during the night itself and that Fournier only made a Nazi-style salute "at the prompting" of a journalist who was there and broke the story.
- AP