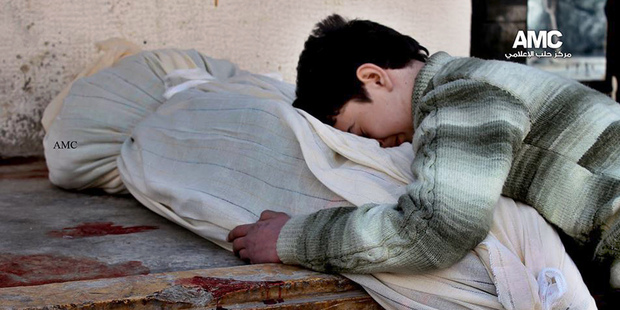 In image provided by Aleppo Media Center, an anti-Bashar Assad activist group, a Syrian boy weeps over the coffin of his mother who was killed following airstrikes in Aleppo. Photo / AP
Syrian forces have bombarded Aleppo with barrel bombs and air raids for a second day, with 121 people killed in 48 hours after peace talks ended inconclusively.
At least 36 people were killed in Sunday's attacks alone on Syria's second city, the Syrian Observatory for Human Rights said. It reported 85 deaths the previous day.
Saturday's toll was one of the bloodiest in weeks and reflects the deep divide between the government of President Bashar al-Assad and his opponents despite 10 days of peace talks.
The air force was also accused of killing 76 people on December 15 by unleashing barrels packed with explosives on Aleppo.
The attack came a day after a week of peace talks ended in Geneva with no concrete progress and no immediate commitment from Assad's envoys to return on February 10 for more meetings with the Western-backed opposition, as suggested by mediator Lakhdar Brahimi.
The nearly three-year-old conflict in Syria erupted into a full fledged war after a bloody regime crackdown on peaceful anti-government protests in the wake of Arab Spring uprisings that toppled veteran presidents.
More than 136,000 people have been killed in Syria since the conflict began, with January one of the bloodiest months, and millions have been displaced internally and as refugees in neighbouring countries.
The war has also spilled over into Lebanon, sparking sectarian clashes between supporters and opponents of the Syrian government as well as deadly car bomb attacks.
On Sunday, regime warplanes pounded rebel-held districts in eastern Aleppo, with helicopters dropping the controversial makeshift barrel bombs denounced by rights groups as indiscriminate.
Observatory director Rami Abdel Rahman told AFP that 21 people were killed in three waves of barrel bomb attacks on the Tareq al-Bab district, including 13 children.
Another 15 died in separate air raids and barrel bomb strikes on the divided city.
Similar attacks on Saturday killed at least 85 people, including 65 civilians, said the Observatory, which relies on a network of activists and medics on the ground for its information.
According to the monitor, 34 people were killed in one neighbourhood alone on Saturday, 10 of them jihadists from Al-Nusra Front, al-Qaeda's Syrian affiliate.
Once Syria's economic hub, Aleppo is now split into regime- and rebel-held areas, with large swathes of the city devastated by the fighting that began there in mid-2012.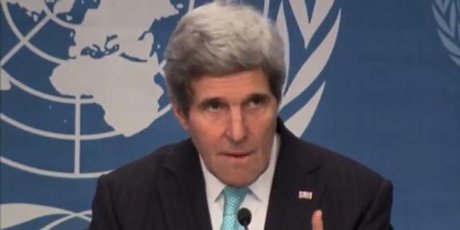 - AFP, AAP