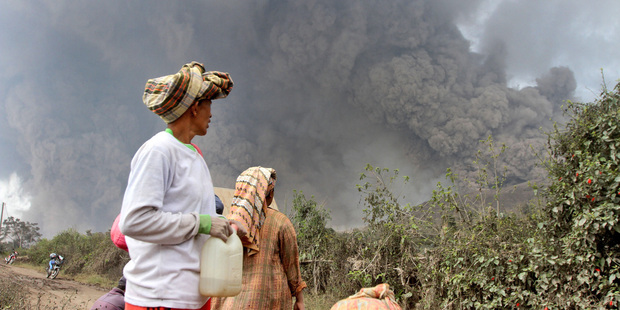 Villagers watch as Mount Sinabung releases pyroclastic flows during an eruption in Namantaran, North Sumatra, Indonesia. Photo / AP
The death toll from an Indonesian volcano that has been rumbling for months rose to 16 yesterday after rescuers found another charred corpse and a critically injured university student died in a hospital.
Mt Sinabung erupted again on Saturday, just a day after authorities allowed thousands of villagers who had been evacuated to return to its slopes, saying volcanic activity was decreasing.
Rescuers found 14 bodies and rescued three people with burn injuries, said National Disaster Mitigation Agency spokesman Sutopo Purwo Nugroho.
Rescue efforts resumed and rescuers found another body about 3km from the volcano's peak, said Lieutenant Colonel Asep Sukarna, who led the operation. Another resident, a 24-year-old student died in intensive care at the Efarina Etaham Hospital.
Among the dead were a local television journalist and four high-school students and their teacher who were visiting the mountain to see the eruptions up close, Nugroho said.
At least three others were injured and authorities fear the death toll will rise.
Sinabung in western Sumatra has been erupting for four months. Authorities had evacuated more than 30,000 people, housing them in cramped tents, schools and public buildings, but many were desperate to return to check on homes and farms.
On Friday, authorities allowed nearly 14,000 people living outside a 5km danger zone to return after believing volcanic activity had decreased. Others living close to the peak have been returning to their homes over the past four months despite the dangers.
On Saturday, a series of huge blasts and eruptions thundered from the 2600m volcano. Television footage showed villages, farms and trees covered in thick gray ash.
Mt Sinabung is among about 130 active volcanoes in Indonesia and has sporadically erupted since September.
Meanwhile, Ecuador's Geophysics Institute is reporting that the 5023m Tungurahua volcano has erupted three times, spewing ash and lava in what it called an important increase in activity.
The institute said two moderate explosions yesterday were followed by a third of greater size, and pyroclastic flow stretched 500m down its flank. The blasts created an 8km column of ash above the volcano, 135km southeast of Quito.
Authorities said the lava had blocked a route to a tourist site called Banos.
- AP