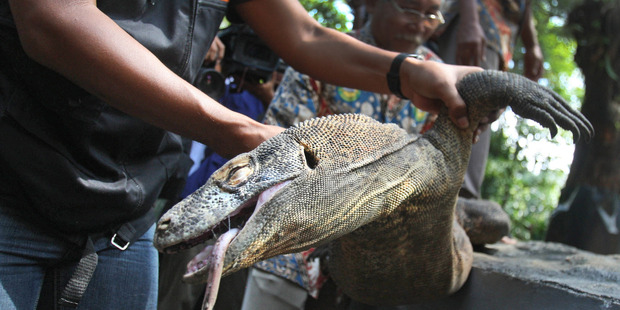 A police officer and a zoo employee take a Komodo dragon that was found dead in its cage for an autopsy. Photo / AP
An endangered komodo dragon and a barking deer have died in the latest incidents to hit Indonesia's largest and most problem-plagued zoo.
Zoo spokesman Agus Supangkat said Sunday that a 7-year-old dragon was found dead in his cage at the zoo in Surabaya, Indonesia's second-largest city, and that a pregnant barking deer had died shortly after a visitor reported it was having convulsions with foaming mouth.
The facility has long been plagued with problems, including premature deaths, uncontrolled breeding and a lack of funding. An online petition wants the government to close the facility, dubbed "the zoo of death."
Supangkat says a police forensic team was performing autopsies to determine the cause of the deaths.
The death left the zoo with 57 komodo dragons, the world's most critically endangered.