Briton a day from finishing charity run across Canada dressed as superhero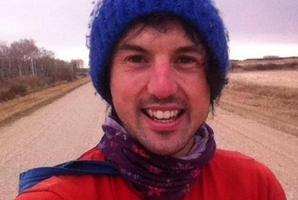 Jamie McDonald is running 800km.
A British adventurer dressed as a superhero is a day away from completing a gruelling 8000km charity run across Canada.
Jamie McDonald, 27, will become the first person to run across the country without a support team and has raised 150,000 ($304,960) for charity.
The coast-to-coast run is the equivalent of more than 200 marathons in 275 days. It has involved McDonald sleeping by the side of the road and relying on strangers' generosity.
Mr McDonald, from Gloucester, is due to finish his challenge tomorrow, when he reaches Vancouver.
"Before I started I was asked how I'd prepare for the more than 5000 miles that lay ahead of me," said McDonald, who funded the trip with money he had saved for a mortgage.
"I answered truthfully and said that I wouldn't - no amount of training or planning could have prepared me for this journey.
"Some said I wouldn't make it and at times it's looked that way. But with my final few marathons to go, I can only think about the finish line and dipping my hand into the Pacific Ocean, just as I did more than 200 marathons ago in the Atlantic.
McDonald said support in Canada and the UK had been phenomenal.
"I always say that I'm doing the easy bit. All I have to do is put one foot in front of the other and stay motivated enough to reach the end, which when I think about the money being raised for sick kids comes easily enough," he said.
"With the wind at my back, my dad coming out to run with me and the Rockies and -40C temperatures behind me, I'm really going to enjoy the last few days."
Originally billed as the British Forrest Gump, he has run dressed as DC comic superhero The Flash after a public vote on Twitter and Facebook chose a costume for him.
Mr McDonald has run more than 3200km with chronic tendonitis, gone through more than 10 pairs of trainers and has permanently injured and misshapen his foot.
He also pushed a 60kg baby stroller, which contained all his possessions, for more than 7240km. He began by carrying a 30kg backpack but had to change tack when the weight caused an injury.
McDonald, who suffered from a debilitating immune deficiency and potentially fatal spinal condition syringomyelia as a child, spent the first nine years of his life in and out of children's hospitals and is running to raise funds for SickKids Foundation, Great Ormond Street Hospital Children's Charity and the Pied Piper Appeal.