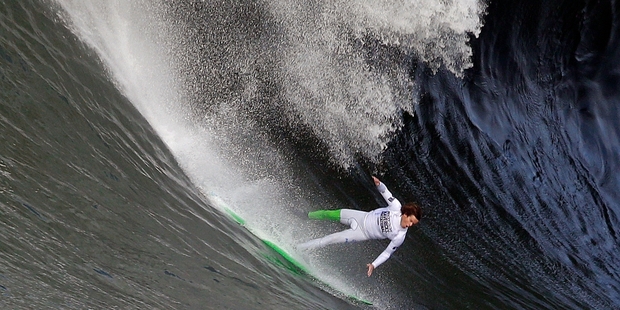 California pro surfer Nic Lamb on the verge of toppling off his board. Photo / AP
The Mavericks surf competition off the Northern California coast delivered huge waves and in the end South Africa's Grant "Twiggy" Baker took home the crown.
Forecasters had predicted that the mix of swell size and weather would make for faces exceeding 12m, and Mother Nature didn't disappoint, with some appearing to top 15m.
Baker, 40, also won the competition in 2006 and is considered one of the world's foremost big-wave riders.
Only surfers invited to the event can participate, and it is held only when conditions are prime. This year, invitations went out to 24 of the world's best big-wave surfers, who compete in groups throughout the day.
- AP