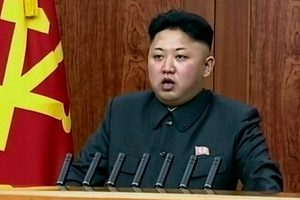 North Korea has urged an end to military hostilities in the latest in a series of apparently conciliatory gestures to South Korea, which has so far reacted with scepticism.
The latest olive branch came in the form of an "open letter" sent to the South Korean authorities by the North's top military body on the direct orders of leader Kim Jong Un.
"What is important for paving a wide avenue for mending North-South relations is to make a bold decision to stop all hostile military acts, the biggest hurdle stoking distrust and confrontation," the letter from the National Defence Commission said.
A week earlier, the NDC had sent a series of proposals urging South Korea to cancel scheduled joint military exercises with the United States and proposing a mutual moratorium on mud-slinging by the two rivals.
Seoul dismissed the overtures as a "deceptive" propaganda exercise, and warned that Pyongyang may well be laying the ground for a provocative act aimed at triggering a confrontation.
"Regretfully, the South Korean authorities still remain unchanged in its improper attitude and negative stand," the NDC letter said.
Many analysts have voiced scepticism over the North's recent charm offensives, noting its proclivity for offering conciliatory gestures ahead of an act of provocation.
- AFP