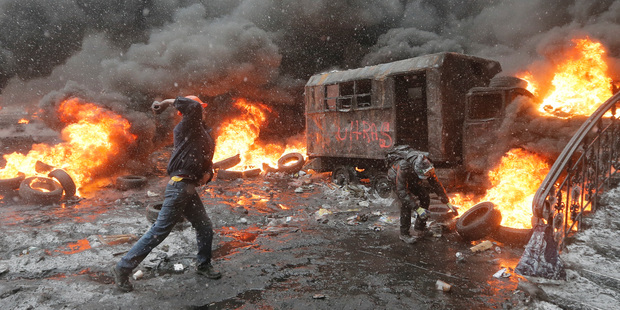 A burning fug of teargas mingled with the acrid black smoke of blazing tyres hung over the streets of Kiev as protesters and police battled for control of the city's historic centre.
Three days of clashes have left up to five people dead, parts of the Ukrainian capital resembling a medieval battlefield and the opposition movement that has challenged President Viktor Yanukovych's control at risk of disintegration.
"The time for talking is over. After a law like that what can we do? We have to defend ourselves," said Dmitry, a 29-year-old plumber and Kiev native who described himself as a member of the Right Sector group that has been at the heart of street fighting since Monday.
Wearing a hard hat and clothed in a British army-surplus combat jacket criss-crossed by the strap of his gas mask case and a baldric from which a chair leg hung like a sword, he was, as he cheerfully admitted, in breach of several provisions.
The law he was referring to is a package of legislation - forced through the Ukrainian Parliament last week and brought into force yesterday - that effectively criminalises many of the public protest tactics the pro-European opposition has used during its hitherto peaceful struggle with the Government.
Like many in the younger, angrier element of protesters at the centre of the street battles, Dmitry had no qualms about the violence. "If the police wanted to support the people, they would have come over by now," he said.
It was that animosity, mixed with frustration at the political opposition's perceived failure of leadership, that exploded on Monday when police blocked the route of demonstrators as they tried to march up Grushevsky St towards Parliament, setting off two days of the worst political violence Ukraine has seen since becoming independent.
According to a field hospital set up by protesters, five activists were killed and 300 wounded yesterday.
Ukrainian officials confirmed that two protesters had died of gunshot wounds and they were investigating whether police were responsible.
Doctors at the occupied government building where anti-government protesters have been based for two months said the two were killed by shots fired by police marksmen. The first was killed by rubber bullets, but they were almost certain that the second man was killed by a live round.
Ukrainianskaya Pravda, a newspaper, identified one of the shot men as Sergei Nigoyan, a 20-year-old activist from Dnipropetrovsk. He reportedly died from four wounds to the head and neck
The deaths brought a new and dangerous peak in tensions after two months of protests at the Government's failure - under Russian pressure - to sign a deal for closer integration with the European Union.
They provoked a vicious running battle. As massed officers moved in firing a hail of rubber bullets, flash-bangs and tear gas grenades to evict the protesters, they were met with a desperate flurry of petrol bombs and cobblestones.
Both sides yelled obscenities. When a petrol bomb crashed into a police phalanx, engulfing a blue-camouflaged figure in flames, a cheer went up. Police have taken to throwing the bombs back rather than putting them out.
By nightfall the city was still echoing to the explosion of noise grenades. The Ukrainian authorities ordered all government offices and businesses in central Kiev to close early as thousands of protesters flooded into Independence Square in anticipation of a Tiananmen-style crackdown.
Mykola Azarov, Ukraine's Prime Minister, denied allegations that two of those who died had been killed by live rounds, saying the police were not carrying live ammunition. He issued what appeared to be an ultimatum to opposition leaders, demanding they either call on demonstrators to stop or "claim responsibility for these actions".
The three main opposition leaders rejected compromise, issuing a joint statement demanding the immediate withdrawal of troops and the resignation of the Interior Minister for authorising the crackdown.