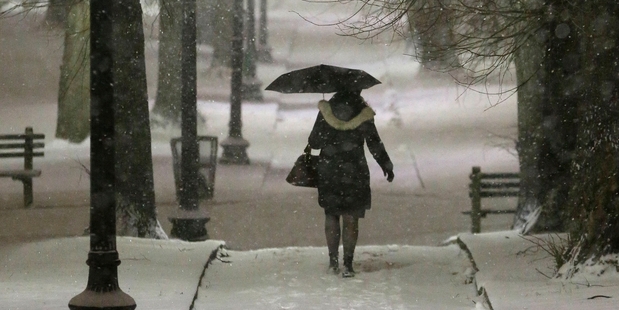 A major snowstorm has rolled across the northeastern US, with forecasters predicting as much as 30cm of snow in some places before it leaves a cold snap in its wake.
Downtown Washington fell virtually silent yesterday after the federal Government, seeing the swift-moving cold front approaching, closed its doors and told civil servants - who on Tuesday had the day off for the Martin Luther King holiday - to stay home.
Enough snow was expected to fall on the US capital to turn the evening rush hour into a Beltway traffic nightmare, as the storm churned its way into New York and the northeastern New England states.
In its wake, the storm will see temperatures drop as low as -13C in Washington with the mercury unlikely to climb back above freezing before Sunday.
FlightAware, a website that monitors air traffic, said nearly 3000 flights into, out of or within the United States had been cancelled yesterday, mostly involving busy airports in the New York, Philadelphia and Washington areas.
National passenger rail operator Amtrak warned passengers to "anticipate some weather-related delays".
Private forecasting service AccuWeather predicted snowfalls to be heaviest along a band stretching from the Canadian province of Nova Scotia and the northeasternmost state of Maine down the Atlantic seaboard into Virginia.
"As the air turns colder, the snow will become dry and powdery. Increasing winds will cause extensive blowing and drifting snow," AccuWeather said.
The Washington Post's popular Capital Weather Gang blog forecast up to 25cm of snow in and around the US capital, ahead of a return of sub-freezing temperatures this week.
Even as the snowstorm set in, it was reported that last year was among a handful of the warmest years on record since 1880, according to US Government figures that provide more evidence that the planet is heating up.
Human-caused pollution and the burning of fossil fuels such as oil and coal have driven up greenhouse gas levels, leading to a long-term rise in temperatures, said the US space agency Nasa yesterday.
Carbon dioxide is at its highest level in the atmosphere in 800,000 years, having risen from 285 parts per million in 1880 to 400 parts per million last year, Nasa said.
Unless current trends change, scientists said the world should expect each of the coming decades to be warmer than the last, said Nasa climatologist Gavin Schmidt.
He described the warming of the past few decades as "unusual" and urged people not to judge whether climate change is happening or not based on random weather events such as cold snaps.
"The long-term trends in climate are extremely robust," he told reporters. "People have a very short memory when it comes to their own experience of weather and climate, and the only way that we can have a long-term assessment of what is going on is by looking at the data."
Nasa and the National Oceanic and Atmospheric Administration (Noaa) both released their annual global figures on climate, which found similar increases in temperature across the planet.
According to Noaa, the average of combined land and ocean surface temperatures in 2013 was 0.62C above the 20th-century average of 13.9C.
Noaa found that 2013 tied with 2003 as the fourth-warmest year since records began in 1880, while Nasa said last year ranked seventh.
However, experts said the actual temperature differences between years are very small, and that the overall trend towards a warming planet is clear.
Last year also marked the 37th year in a row with higher than average global temperatures.
- AFP