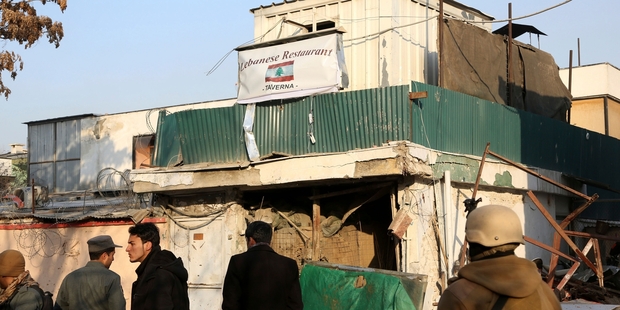 Survivors of the devastating Taliban suicide attack on a restaurant in Kabul told of the carnage and bloodshed, as details emerged of 21 people, including 13 foreigners, who died in the assault.
Desperate customers hid under tables when one attacker detonated his suicide vest at the fortified entrance to the Taverna du Liban and two other militants stormed inside and opened fire.
Among the dead were two Americans, two British citizens, two Canadians, the International Monetary Fund (IMF) head of mission, and the restaurant's Lebanese owner, who was killed as he tried to fire back at the attackers.
A female Danish member of the European police mission in Afghanistan and a Russian UN political officer also died in the massacre, which was the deadliest attack on foreign civilians since the Taliban were ousted in 2001.
The United Nations said four of its staff had been killed, though it did not release their nationalities.
"We heard a big bang and everywhere was dark," Atiqullah, 27, an assistant chef, said as he attended a funeral for three of the restaurant's guards.
"We used a back door to go to the second floor. Our manager went downstairs. We heard some gunshots and later found out that he had been shot dead.
"There was blood everywhere, on tables, on chairs. Apparently, the attackers had shot people from a very close range."
Interior Minister Omer Daudzai said three police officers responsible for security in the upmarket Wazir Akbar Khan district had been suspended pending an investigation.
A haven for Afghans and expats, the Taverna has been a regular dining spot for foreign diplomats, aid workers and Afghan officials and businessmen for several years, and was busy with customers on Friday, the weekly holiday in Afghanistan.
Like many restaurants in Kabul, it ran strict security checks, with diners patted down by armed guards and passing through at least two steel doors before gaining entry.
Yesterday, the Taverna's battered sign was still in place, hanging over the ruined remains of the entrance door. Several badly damaged cars remained at the scene.
The two Lebanese dead were the country director for the International Monetary Fund, Wabel Abdallah, and his friend, the restaurant's owner Kamal Hamade.
Both men had been in Afghanistan for many years. Abdallah had helped the government and donors untangle the US$900 million ($1.1 billion) Kabul Bank scandal that embroiled much of the political elite.
Among the dead were a Briton and Malaysian working as consultants to the Afghan Finance Ministry.
The American University of Afghanistan said one US victim had recently joined its faculty of political science, and the other was a member of the student affairs staff.
The Taliban claimed responsibility and a spokesman said the attack was to avenge a US airstrike in Parwan province last Wednesday.
- AFP, Observer