Two suspects arrested in the gang rape of a 51-year-old Danish tourist in New Delhi are unemployed young men who allegedly attacked the woman for nearly three hours before fleeing with her belongings, police say.
The two were picked up early yesterday near the scene of the crime, police spokesman Rajan Bhagat said. Investigators were closing in on other suspects after the two provided details during questioning, he said.
Police said the tourist was raped at knifepoint on Tuesday near Connaught Place, a popular shopping area in the heart of New Delhi. The woman approached a group of men for directions back to her hotel. But instead of helping her, the men lured her to a secluded spot and raped her repeatedly, according to police.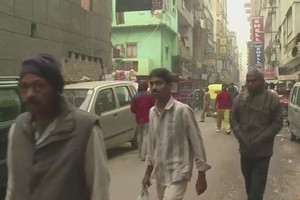 One of the suspects was found with the victim's spectacle case, police said.
The other suspect had an iPod and earphones. He also had a mobile phone police said was bought with money stolen from the victim.
The problem of sexual violence in India has gained widespread attention since the horrific gang rape and murder of a 23-year-old woman on a bus in December 2012. Public fury over the case has led to more stringent laws that doubled prison terms for rape to 20 years.
But for many women, daily indignities and abuse continue unabated.
There has been a surge in the number of rapes reported, suggesting that women are being emboldened to speak up. Between January and October last year, 1330 rapes were reported in Delhi, compared with 706 for all of 2012.
Foreigners have also been targets, including a Swiss woman who was cycling with her husband in central India when she was gang-raped.
- AP