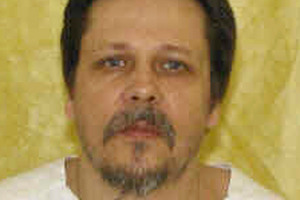 Dennis McGuire. Photo / AP
The US Supreme Court on Wednesday rejected a condemned killer's last-minute appeal in which he claimed a jury never heard the full extent of his chaotic and abusive childhood.
The court's ruling moved death row inmate Dennis McGuire closer to execution Thursday for the 1989 rape and fatal stabbing of 22-year-old Joy Stewart, who was newly married and pregnant, in Ohio.
The court denied McGuire's application for a stay of execution without offering explanation.
Read: Fears Ohio death row guinea pig could die in agony
McGuire, 53, is scheduled to die by a two-drug combination never used in the US to put an inmate to death. His attorneys allege the process will cause him "agony and terror" as he struggles to breathe.
The state disputes that scenario, and a federal judge on Monday rejected McGuire's attempt to stop his execution over concerns about the lethal method.
McGuire's attorneys argued to the US Supreme Court last week that information about his chaotic childhood of abuse and neglect could have prevented him from being sentenced to death if it was presented at trial.
Court filings argue McGuire was so malnourished as a child that his stomach was swollen and distended. He also had to frequently steal food for himself and his younger sister, his appeal said.
McGuire was physically abused by at least four parental figures and shows signs of brain damage from head trauma, the attorneys said.
The state opposed McGuire's appeal, arguing to the court that numerous other courts have upheld McGuire's sentence. State attorneys said the trial jury heard many details about McGuire's rough boyhood.
McGuire's "challenges to his sentence have spanned decades and failed," attorneys for the Ohio attorney general's office said.
Supplies of Ohio's former execution drug, the sedative pentobarbital, dried up as its manufacturer put it off limits for executions.
Ohio's Department of Rehabilitation and Correction plans to use a dose of midazolam, another sedative, combined with hydromorphone, a painkiller, to put McGuire to death.
The combination of drugs Ohio intends to use has never been used in a US execution. They are included in Kentucky's backup execution method, and Florida uses midazolam as part of its three-drug injection process.
In numbers
32 US states in which capital punishment is legal.
3,108 Inmates awaiting execution.
22 Juveniles aged 16 and 17 were executed between 1976-2005.
273 Clemencies have been granted in the US since 1976.
-AP, UK Independent