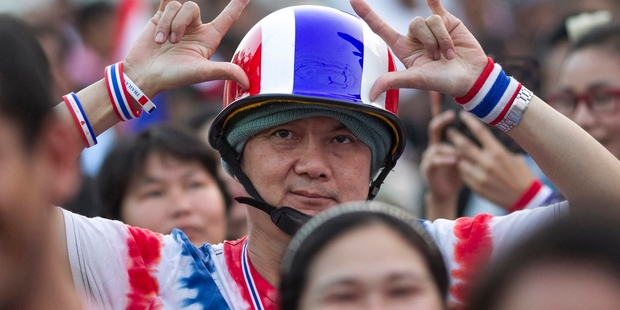 At an abandoned police post by a key intersection occupied by anti-government protesters in Bangkok, rally guard Ton has no doubt who is in charge of security.
"We're in control of the city now," he says.
In a twist to a peculiarly Thai protest, police have almost deserted the streets during a new round of mass rallies aiming to topple Prime Minister Yingluck Shinawatra and curb the political dominance of her brother, former Premier Thaksin.
"We're providing the security for the protests, not the police," says 25-year-old volunteer Ton. "The police have left. I have no idea where they are."
The demonstrators want Yingluck to resign to make way for an unelected "people's council".
The civilian guards, identifiable by their black T-shirts, armbands and walkie-talkies, have stepped into the apparent vacuum left by the police, taking on traffic and crowd control.
"There hasn't been any real police power for a long time now ... because they only serve Thaksin, not the people," says guard Noppadon Isaraphukdee, 48.
During the weeks of mass rallies, Yingluck has adopted defensive tactics to stop violence spiralling out of control, fearing widespread clashes could precipitate a military coup.
She has been applauded by the United States for showing "restraint", in contrast to a military crackdown on opposition protests under the previous Government that left dozens dead in 2010.
Even if Yingluck wanted to send out troops to restore order, it is uncertain whether they would obey her.
The military - traditionally a staunch supporter of the anti-Thaksin royalist establishment - has said it will not crack down on the rallies, and the army chief has even refused to rule out a coup.
Meanwhile in a near-daily dance, police have retreated to barracks or backstreets, ceding ground to demonstrators and even allowing them to occupy police property.
When live ammunition has been used it has been by unidentified gunmen, whose victims include a policeman.
- AFP