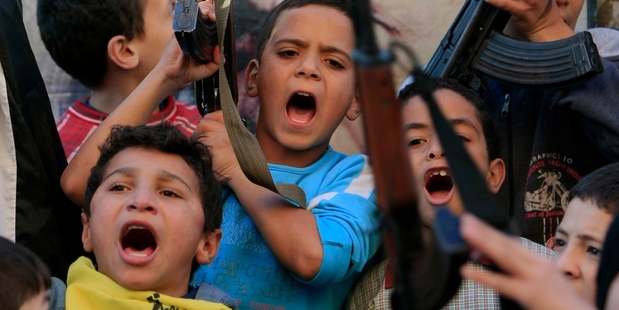 Israel is preparing to pay its respects to Ariel Sharon, who was both admired and reviled for his uncompromising style and whose death drew emotional reactions even after eight years in a coma.
Celebrated as a military hero by some, recognised as a pragmatic politician by others, and despised as a bloodthirsty criminal by his foes, Sharon was a polarising figure at home and abroad. But Israelis of all stripes acknowledged Sharon as a key figure in their country's history, whose death at 85 yesterday left President Shimon Peres as the Jewish state's last surviving founding father.
Sharon's body was to lie in state today at Jerusalem's Knesset, the Prime Minister's office said. He will be buried tomorrow morning NZT at his property in the Negev desert in southern Israel in a military ceremony. He had been comatose since January 4, 2006, after a massive stroke. His condition took a turn for the worse on New Year's Day when he suffered kidney problems after surgery.
Israeli Prime Minister Benjamin Netanyahu said "his memory will forever be held in the heart of the nation". Peres said he would be "greatly missed".
US President Barack Obama described him as a leader who "dedicated his life to the State of Israel". Vice-President Joe Biden will lead a US delegation to the memorial service due to be held in Parliament before the burial. US Secretary of State John Kerry remembered Sharon as a "big bear of a man" who in his final years "surprised many in his pursuit of peace".
Sharon was once known chiefly as a ruthless military leader who fought in all Israel's major wars before switching to politics in 1973 and championing the development of Jewish settlements in the occupied Palestinian territories. Most world leaders chose to remember the politician who surprised many by overseeing the dismantling of settlements from Gaza in 2005. United Nations Secretary-General Ban Ki Moon urged Israel to build on Sharon's "legacy of pragmatism" to achieve a viable Palestinian state.
Palestinians were quick to welcome news of his death, which prompted an outburst of celebration in the Gaza Strip, controlled by the Islamist Hamas. The group said Sharon's death was a "historic moment" marking the "disappearance of a criminal whose hands were covered with Palestinian blood".
In the West Bank city of Ramallah, Jibril Rajub, a senior official with the more moderate Fatah organisation, also welcomed Sharon's passing, blaming him for the 2004 death of Yasser Arafat. "Sharon was a criminal, responsible for the assassination of Arafat, and we would have hoped to see him appear before the International Criminal Court as a war criminal."
- AFP