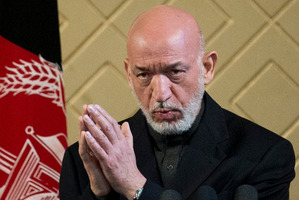 Afghan President Hamid Karzai. Photo / AP
Afghan President Hamid Karzai yesterday ordered the release of 72 prisoners accused of attacking foreign and government forces despite US fears the inmates could return to the insurgency.
The issue has been a sticking point in Afghan-United States relations as the two sides struggle to agree on a framework for the withdrawal of American and allied forces by 2015.
Last week, a group of US senators met Karzai in Kabul to warn him release of the 88 detainees from the Parwan Detention Facility "would be a major step backwards" for US-Afghan relations.
A review of the prisoners' cases by Afghan intelligence and judicial officials turned up no evidence of wrongdoing for 45 of the detainees, and there was insufficient evidence on a further 27, so they must be released, Karzai said. His statement gave no details on when the release would take place.
The remaining 16 detainees would remain in custody until their cases could be reviewed further, the statement said.
The US wants all 88 to face trial in Afghanistan, saying it has evidence implicating them in the death or wounding of 60 members of coalition forces and 57 belonging to the Afghan forces.
US State Department spokeswoman Jen Psaki insisted the 72 detainees were "dangerous criminals" and there was "strong evidence linking them to terror-related crimes", including roadside bombs.
"We have expressed our concerns over the possible release of these detainees," she said.
An Afghan panel last week ordered the release of 650 detainees from Parwan. The US turned over control of the Parwan facility, near the US-run Bagram military base north of Kabul, to Afghan authorities last March.
- AP