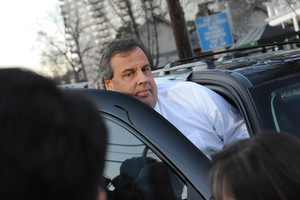 Chris Christie. Photo / AP
New Jersey's Republican Governor Chris Christie fired one of his top aides yesterday and apologised for his staff's "stupid" behaviour, in an attempt to limit damage over charges his administration engineered traffic jams in a political vendetta that could now undermine his presidential prospects.
Christie, who had previously said his staff had nothing to do with the lane closings in September that caused major backups at the George Washington Bridge, which links New York and New Jersey, said he fired deputy chief of staff Bridget Anne Kelly "because she lied to me" when he demanded weeks ago that anyone who knew anything about the episode come forward.
"I am embarrassed and humiliated by the conduct of some of the people on my team," he said as he addressed the widening scandal that could cast a shadow over his expected run for the White House in 2016.
The famously blunt Republican fielded dozens of questions from reporters with uncharacteristic patience during a nearly two-hour press conference.
Kelly was the latest casualty in the scandal. Two other top Christie appointees have resigned in the past few weeks.
The investigation broke wide open on Thursday, with the release of emails and text messages that suggested Kelly arranged the traffic jams to punish Fort Lee's mayor for not endorsing Christie for re-election.
The political-payback allegations turned a local traffic furor into a national issue and raised questions about Christie's leadership and integrity as he lays the groundwork for a White House bid. Democrats at the national level have seized on the scandal as more evidence that Christie is a bully. The governor brushed off questions about the effect on his presidential prospects, saying he was too busy governing the state to think about that.
Afterward, some political analysts on both sides of the aisle said Christie would probably pull through okay - provided there are no more surprises.
Democratic operative David Axelrod complimented Christie for handling the news conference "as well as he could", writing on Twitter: "Unless smoking gun turns up tying him to scheme, or others arise, he lives 2 fight another day."
Christie said he was still looking into the traffic-jam episode and will take action against other senior staff members if it is warranted.
The chief federal prosecutor in New Jersey, US Attorney Paul Fishman, said he was "reviewing the matter to determine whether a federal law was implicated". The Legislature is also investigating. Using public resources for political ends can be a crime.
Christie said he saw the emails and text messages for the first time on Thursday, and was "blindsided" by what he read and outraged by the callous language. He said he was left "heartbroken" and "betrayed" by his tight-knit circle of advisers.
"I had no knowledge or involvement in this issue, in its planning or execution," Christie said of the lane closings. "And I am stunned by the abject stupidity that was shown here."
Kelly hasn't commented. Christie said he hadn't spoken to her or asked to hear her side of the story since the emails were released, saying he didn't want to be accused of trying to influence a possible witness.
"Time for some traffic problems in Fort Lee," Kelly wrote in August in a message to David Wildstein, an official with the Port Authority of New York and New Jersey.
"Got it," Wildstein replied. A few weeks later, Wildstein closed two of three lanes connecting Fort Lee to the George Washington Bridge, which runs between New Jersey and New York City and is one of the busiest spans in the world, crossed by more than 100 million vehicles a year.
In the back-and-forth emails and text messages that followed, Christie loyalists gloated over the traffic jams and called the Fort Lee mayor "an idiot" and "this little Serbian".
Wildstein, a Christie appointee who resigned from the Port Authority of New York and New Jersey after being implicated in the scandal, was found in contempt yesterday by a legislative committee after he invoked his right against self-incrimination and refused to answer questions. The Port Authority operates the bridge.
Christie travelled to Fort Lee later in the day and apologised in person to Mayor Mark Sokolich.
A bridge too far? How it happened and what it means for Governor's career
How did this start?
For four days in September, two of the three approach lanes from Fort Lee to the George Washington Bridge - one of the world's busiest spans - were closed, causing massive gridlock on the town's streets, delaying emergency vehicles, school buses and commuters. There had been suggestions for months that the closure was done to punish the town's mayor - a Democrat - for his refusal to endorse Republican Governor Chris Christie for re-election. Copies of emails and text messages obtained on Thursday by the Associated Press and other media organisations showed that was apparently what happened.
What did the emails and texts show?
Perhaps the most damning was an August email from Christie's deputy chief of staff, Bridget Anne Kelly, to Port Authority of New York and New Jersey official Bill Wildstein declaring, "Time for some traffic problems in Fort Lee." His response: "Got it." Other Christie administration officials and appointees were named or were part of some exchanges.
What is the Port Authority?
It's the agency that runs the New York City area airports, the PATH commuter train and bridges and tunnels connecting New Jersey and New York, as well as the World Trade Centre. Its board and top staff are among the most plum political appointments available to the Governors of New York and New Jersey.
Who has lost their jobs in the flap?
Two Christie Port Authority appointees - Wildstein and deputy director Bill Baroni - resigned last month. Yesterday, Christie fired Kelly. He also announced Bill Stepien, his former campaign manager, was ordered to end his bid to be state GOP chairman. Christie had previously nominated Stepien to that role. Stepien is also losing his contract as a consultant with the Republican Governors Association, which Christie chairs.
Are there investigations into what happened?
Yes, at least three of them. US Attorney Paul Fishman said yesterday that he's looking into whether any laws were broken. The Port Authority's inspector general is also investigating. The state Assembly's Transportation Committee has also been investigating and subpoenaed emails from seven people at the Port Authority, including Wildstein and Baroni. The committee held a hearing yesterday and called Wildstein to testify. Wildstein appeared but refused to answer questions at his lawyer's advice. He was accused of contempt, charges a prosecutor could pursue.
How were the closures initially explained?
In November, after lawmakers raised questions, Baroni said the closures were part of a traffic study. The results of the supposed study were never released, but Baroni provided lawmakers with some data about travel times.
What did Christie know about what happened?
The emails didn't directly implicate Christie in the shutdown. Christie said he learned on Thursday from news reports that the lanes were closed for political reasons. He said he previously had asked staff members repeatedly if they had been involved and they said they had not. He said yesterday that he was still unclear about what happened. He said he doesn't know if it was a "rogue political operation that morphed into a traffic study" or if it was the other way around.
Will Christie probe the matter further?
He said in an apologetic news conference that lasted nearly two hours yesterday that he did not plan his own investigation so as not to interfere with the others underway.
What does this mean for the political future for Christie, a Republican star who is considered a possible 2016 presidential contender?
Some political observers and operatives believe his political career will not be ended by it. But the flap does give opponents a line of attack, portraying him as deeply partisan and vindictive - exactly the opposite of the image he has sought to project of a pragmatic bipartisan willing to make principled compromises.
Will the governor's apologies satisfy his political opponents?
That's unlikely. John Wisniewski, the Democrat who is chairman of the state Assembly Transportation Committee, says he has additional questions about whether Christie knew about the lane closures. "I think it strains credibility of an administration that's very hands-on," he said.
- AP