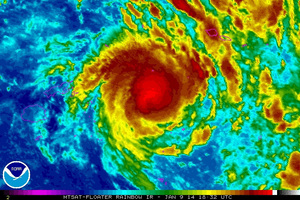 A tropical cyclone warning is in place for Tonga, where thousands of people are battening down as Cyclone Ian approaches.
Do you know anyone affected? Contact the Herald here.
An advisory issued in the last hour by the Fua'amotu Tropical Cyclone Warning Centre says a hurricane warning is now in full force for the Vavau and Ha'apai islands. A gale warning is also in full force for Tongatapu, 'Eua and nearby islands.
The cyclone is about 215km south of Niuafo'ou, the most northerly island in Tonga. It is now a category four system - the second most severe.
The centre said on its current track, the cyclone could bring damaging gale force winds to Vava'u island in the next three to six hours.
The Matangi Tonga news website reported that up to 200 people - including many Tongans from New Zealand - were currently stranded at the remote island of Niuatoputapu.
All ferry services have stopped because of the increasingly bad weather.
It is understood the majority of the group are from the same family; who travelled to the island over the Christmas and New Year break, for a reunion, the newspaper reported. Many within the family are Tongans from overseas - in particular, New Zealand.
The Ministry of Foreign Affairs says 114 New Zealanders are registered as currently being in the Pacific Island nation.