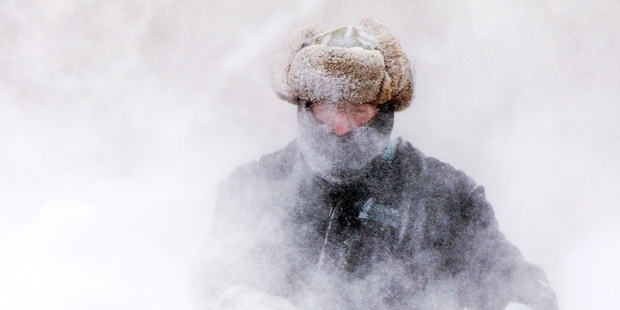 All 50 of America's states recorded temperatures below freezing yesterday. It was so cold even the polar bear at Chicago zoo spent most of the day indoors.
Parts of the country not victims of the "polar vortex" that afflicted swathes of the US suffered abnormally chilly weather, as authorities declared it the coldest January 7 (local time) on record.
The lowest temperature was reported at Embarrass, Minnesota, a township of just over 600 people, where the thermometer fell to -35F (-37C). Once the wind chill was taken into account, the temperature felt as low as -45F (-43C).
On Hawaii, the weather station on Mauna Kea, the island's highest mountain, recorded -8C and temperatures plummeted at all levels in the southern states of the US mainland.
"It's not unprecedented, but it is unusual," a spokesman for the US National Weather Service said. "Normally either Florida, Texas or Louisiana stays above freezing."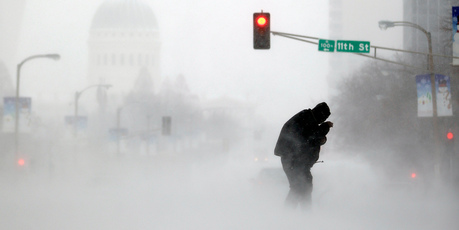 In Chicago, the zoo's polar bear, Anana was kept in its heated indoor enclosure all day on Tuesday and ventured outside only briefly yesterday as the thermometer fell -24 to -27C.
At least 21 people are believed to have died across the US as a result of the cold blast. According to the latest official figures, 187 million people have been affected by the severe weather.
Across the country, wind chill warnings were in place for 32 states from Montana in the north to Florida in the south-east.
The eastern seaboard, which had escaped the initial impact of the vortex, was also affected. Andrew Cuomo, the Governor of New York state, closed swathes of the state highways as a precaution. A state of emergency was declared in Illinois as it wrestled with the most severe temperatures in two decades. It was so cold that water thrown into the air turned into ice before hitting the ground.
Temperatures are expected to climb slowly by the end of the week.