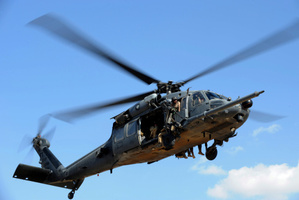 A U.S. Air Force HH-60 Pavehawk comes in for a landing. Photo / Thinkstock
A US Air Force Pave Hawk helicopter has crashed in a coastal area of eastern England during a training mission, killing all four crew members aboard.
The helicopter, a Pave Hawk, took off from the US airforce base at RAF Lakenheath, Suffolk, for a routine low-level flying exercise.
It crashed at about 6 pm local time near Salthouse on the Norfolk coast, a statement from the US Air Force said.
The helicopter, assigned to the 48th Fighter Wing, was flying low at the time of the crash, the statement added.
Police in Norfolk County cordoned off the area where the crash occurred, and several vehicles from the fire brigade, coast guard and police are at the scene. Police said they do not believe anyone in the area has been injured.
"An assessment is still being carried out around the munitions which may be on the aircraft and advice from the military is being taken," the police force said.
It added that family members will be notified before details on the victims can be released.
Richard Kelham, chairman of Cley Parish Council, said: "It looks as though the military helicopter has come down in the middle of the bird reserve. The incident is very sad."
Lieutenant Keenan Kunst, who is based at Lakenheath, confirmed that the helicopter that crashed was based there.
There was speculation last night that a bird strike could have been responsible for bringing the aircraft down.
Paul Beaver, a pilot, told Sky news: "It's a wonderful place for waterfowl it could have been a bird strike, night time birds do fly there."
The Royal National Lifeboat Institution earlier revealed that it had been asked for three lifeboats to respond to reports that an aircraft may have ditched in the sea.
"Lifeboats Wells, Sheringham and Cromer were launched at the request of the coastguard but were stood down when it was confirmed that the aircraft had come down over land," said a spokesman.
The role of HH-60G Pave Hawk helicopters is to conduct rescue operations in hostile environments to recover isolated soldiers during wartime.
They are also used for civilain search and rescue missions, medical evacuations, disaster responses and humanitarian assistance.
The Pave Hawk is a modified version of the Army Black Hawk helicopter and has upgraded communications and navigation technology making it ideal for rescue missions.
Britain is suffering from a spell of stormy weather and high winds, but the west of the country has borne the brunt of the rough conditions.

- Daily Mail, AP