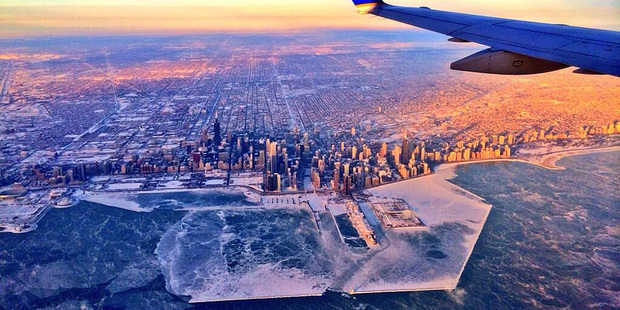 A frozen Chicago as seen from the air. Photo / Hank Cain / Twitter
Parts of the US are colder than the South Pole as a deadly 'polar vortex' pushes temperatures to lows not seen in two decades.
The deep freeze over North America has killed at least 12 people, snarled air travel, closed schools and prompted calls for people to stay inside.
Comertown, Montana has recorded the lowest wind chill value so far at -53C, while North Dakota, South Dakota and Minnesota were not much warmer.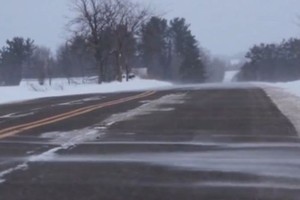 That was significantly colder than the South Pole, which recorded a wind chill reading of -34C.
In many areas, particularly in the Midwest and Northern Plains, the cold was considered life-threatening. Hypothermia is a major risk at temperatures of below -25C, while frostbite can take hold in less than 10 minutes at -37C.
At -45C, uncovered skin could freeze within five minutes.
Air travel was a nightmare amid the cold, stranding many travellers trying to head home from year's end holidays.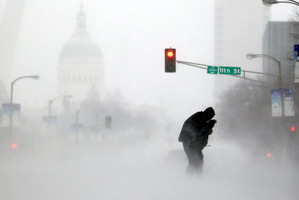 More than 4300 US flights were cancelled - nearly half of those in Chicago - and more than 6500 were delayed, according to FlightAware, a flight-monitoring site.
Toronto's Pearson Airport halted ground operations early on Tuesday because of "equipment freezing" and out of concern for the safety of airport personnel, it said on its Twitter account.
Flights were scheduled to resume at 9am local time (3am NZT on Wednesday), but police were reinforced at the airport amid rising tension among stranded travellers.
Airline JetBlue said it was reducing operations at four airports in the bustling northeast corridor - JFK, La Guardia, Newark and Boston - until 10am (4pm NZT on Wednesday).
More than a dozen deaths were blamed on the frigid weather.
A shift in a weather pattern known as the "polar vortex" triggered the drastic drop in temperatures to lows not seen in two decades.
It coincided with wind chill warnings in much of the eastern US.
In Minneapolis, Minnesota, where people scoff when cities like Washington, DC, panic and shut down with even a moderate snowfall, the newspaper The Star Tribune gave a graphic description of what happens when, for instance, the overnight temperature Monday hit minus 30 Celsius.
"The wind chill and cold are freezing exposed flesh in five minutes," it said.
The paper said life has "slowed to a crawl across the state".
"It's a blistering cold spell destined for Minnesota winter weather lore," it added.
Even the typically temperate Deep South was feeling the chill with a hard freeze warning threatening crops and livestock.
Chicago was among scores of towns and cities which told parents to keep their children at home rather than risk sending them out into winds so bitter that skin could freeze in a matter of minutes.
NEW hi-res pic of an icy, cold #Chicago [courtesy my pilot friend Hank Cain]. Beautiful. pic.twitter.com/yRxxdjZE14

— Shawn Reynolds (@WCL_Shawn) January 7, 2014
Illinois Governor Pat Quinn praised the "heroic" efforts of National Guard troops who cleared a 375-vehicle backup and a forestry officer who rescued seven stranded people and two of their pets using a snowmobile.
Indianapolis mayor Greg Ballard barred everyone except emergency workers from driving at the height of the storm on Sunday and urged residents to stay indoors unless absolutely necessary.
But with thousands of people without power after electrical lines were felled, home was not always the best option.
Those who couldn't stay with family or friends were urged to seek out community centres which were opened as temporary shelters.
The extreme cold disrupted flights and classes in Canada as well. The Atlantic island province of Newfoundland had more than 30,000 people without power.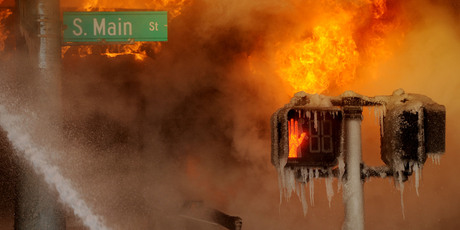 Too cold for escaped prisoner
Just how cold is it in Kentucky? Apparently cold enough for an escaped prisoner to decide to turn himself in.
Authorities said the inmate escaped from a minimum security facility in Lexington on Sunday. As temperatures dropped into the low single digits Monday, officials say the man walked into a motel and asked the clerk to call police.
Robert Vick, 42, of Hartford told the clerk he wanted to turn himself in and escape the arctic air, Lexington police spokeswoman Sherelle Roberts said.
Vick was checked out by paramedics and returned to Blackburn Correctional Complex, Roberts said.
"This was definitely of his own volition," she said. "It's cold out there, too cold to run around. I can understand why the suspect would turn himself in."
Vick would have been dressed in prison-issued khaki pants, a shirt and a jacket when he escaped, Department of Corrections spokeswoman Lisa Lamb said. Wind chill readings were 20 below zero Monday in Lexington.
The Lexington Fire Department treated Vick for hypothermia Monday evening, Roberts said. A call to the department was not immediately returned Tuesday morning.
Vick was serving a six-year sentence for burglary and criminal possession of a forged instrument at the time of the escape from Blackburn Correctional Center.
- AFP, AP