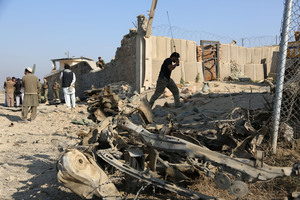 A 10-year-old girl has been apprehended with a suicide bomb vest strapped to her chest in Afghanistan.
The Afghan Interior Ministry said police had apprehended the girl was on her way to carry out a suicide attack against border police in southern Helmand province.
In a statement, the ministry said the girl claimed her brother, a local Taliban commander, had sent her on the mission.
Afghan forces are seeing their casualties mount as the US-led international force there pulls back ahead of its withdrawal at the end of 2014.
Meanwhile, a provincial official in Afghanistan say a suicide car bomber has attacked a security checkpoint in the country's east, killing three police officers.
Musa Khan Akbarzada, the governor of Ghazni province, says the attack Monday also wounded three officers in the Shilghar district.
Taliban spokesman Zabihullah Mujahid claimed responsibility for the attack in an email to journalists.
- UK Independent