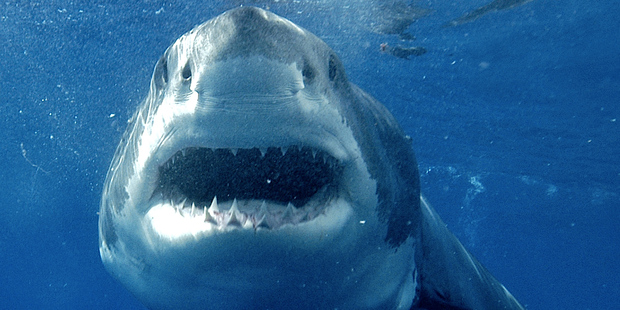 "Cull pollies not sharks" urged one of the placards waved by the thousands of protesters who rallied at the weekend against Western Australia's new policy of catching and killing large sharks close to the state's most popular beaches.
The measures, due to come into force on Friday, were adopted after the death last November of a surfer, Chris Boyd - the seventh person killed by a shark in WA waters in just over three years.
Under the new policy, commercial fishermen will shoot any great white, bull or tiger shark over 3m in length which is caught on the dozens of baited drum lines being set a kilometre off beaches in Perth and in the state's southwest. Large sharks found in the area will also be killed, and their bodies dumped out at sea.
While the state government denies that constitutes a cull, opponents warn that removing apex predators from the ocean will affect the entire marine eco-system. They also say the strategy has been tried elsewhere, without success, and that turtles, stingrays, dolphins and other sea creatures will be caught on the hooks.
Addressing about 4000 protesters at Perth's Cottesloe Beach, Greens senator Rachel Siewert described the measures as cruel, indiscriminate and expensive. While sharks were dangerous, she said, "we choose to enter the water".
The anti-whaling group Sea Shepherd plans to organise a flotilla of activists to shadow the fishermen contracted to kill sharks, while other militants have threatened to lock themselves onto the fishermen's boats. "As soon as they go out in that water to kill sharks, they can expect to encounter a range of groups ... We'll be engaging in direct action to stop these guys on the frontline," one activist, Simon Peterffy, told the Australian.
At the Perth rally, one of a number held around the country, Ross Weir, a shark scientist and founder of Western Australians for Shark Conservation, urged recreational boaters to document evidence of dead sharks and by-catch.
A local Aboriginal elder, Ben Taylor, told the crowd that sharks were part of his culture and spirituality. "[WA Premier] Colin Barnett should hang his head in shame at what he is doing. I remember walking with my father along these shores, and he told me that spirits in these waters were known as great whites."
A petition with more than 37,000 signatures opposing the policy has been tabled in the federal Parliament, while 100 scientists signed an open letter to the Barnett Government last month calling for non-lethal measures - such as helicopter patrols, and tagging and tracking sharks - to be used instead.
The state Government has shrugged off accusations that it is pandering to uninformed public opinion. Last week, Acting Premier Kim Hames even suggested that big sharks were deliberately targeting humans, because "they had got so many and so big".
The Government also says its policy does not contravene federal laws which protect the great white as a vulnerable species.