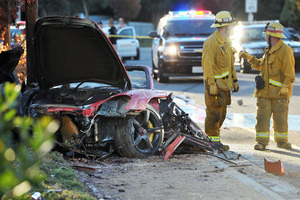 The Porsche carrying late Fast and Furious star Paul Walker was doing more than 160km/h when it crashed, nearly cutting the high-powered vehicle in half, a coroner's report has revealed.
The 40-year-old actor's body was charred beyond recognition in the November 30 crash, according to the report released by the Los Angeles County coroner's office.
The report said Roger Rodas, Walker's friend and financial adviser, was driving the 2005 Porsche Carrera GT at an unsafe speed. Rodas was also killed in the crash.
The report says the deaths have been ruled accidents and were due to the "combined effects of traumatic and thermal injuries".
A more comprehensive report, obtained by TMZ, lists several other injuries and notes that none of Walker's organs were suitable for donation because of his injuries.
Neither man tested positive for alcohol or drugs, including opiates and methamphetamine, the coroner's report said, adding that autopsies were conducted on December 3, but toxicology results were only confirmed on Friday.
The report said the driver lost control of the car "for unknown reasons," causing it to spin around and hit a curb, after which the driver's side of the Porsche struck a tree and then a light pole.
"The force of those collisions caused the vehicle to spin 180 degrees and continue in an easterly direction. The passenger side of the vehicle then struck another tree and burst into flames," it said.
"The vehicle was totalled with major traffic collision damage all around, and it appeared that the vehicle was almost split in half," the report added, saying: "The majority of the vehicle was also charred."
It said Walker's body "cannot be positively identified visually".
Investigators found no mechanical problems with the Porsche or problems with the roadway.
Universal Pictures announced the studio had shut down production of Fast and Furious 7 following Walker's death.
- AAP