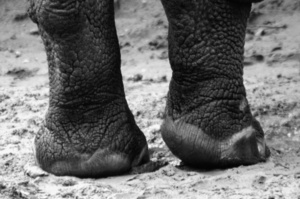 An elephant has been put down in South Africa's Kruger National Park after it attacked and overturned a vehicle, ripping open a British woman's thigh with its tusk.
The bull charged at a car driven by a couple who were filming it in the huge wildlife reserve yesterday.
"It suddenly stopped, turned around and rapidly walked towards the vehicle," a park official said. "The elephant charged at them, attacked the vehicle and flipped it over off the road."
The injured couple were airlifted to a nearby hospital.
"The female tourist was seriously injured by one of the elephant's tusks which perforated and ripped open the back of her upper thigh," said the official.
The man, a South African living in Britain, suffered minor injuries.
It was found the bull had been in musth, a condition affecting males every year when testosterone levels, aggression and sexual activity rise. The "abnormal behaviour" was also probably a result of an injury the elephant had suffered.
The park official said tourists should always keep a safe distance from the animals.
- AFP