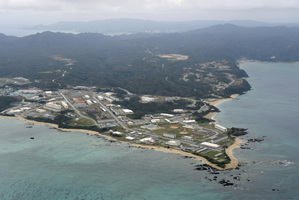 Okinawan officials have approved the relocation of a United States military base, Japan's Defence Ministry says, in a breakthrough that looks set to remove a decades-long source of friction between the two countries.
Local officials signed a document that approves a landfill, paving the way for the building of a base on the coast.
The Defence Ministry's Okinawa bureau confirmed that it received the document, which bore the Governor's seal, from local government officials.
"The office received the document at 10.50am. It was approved," said an official of the ministry's branch office on Okinawa.
After years of staunch opposition, Okinawa Governor Hirokazu Nakaima this week met Prime Minister Shinzo Abe, who pledged a big cash injection into Okinawa's economy every year until 2021.
Some critics have demanded that the US airbase move out of Okinawa prefecture completely.
Nakaima's nod marks a breakthrough on an original 1996 agreement to shut the Futenma airbase, which is in a densely populated urban area.
The US reaffirmed in 2006 that it would resite the base on the coast, but the move has been stymied by opposition throughout Okinawa, which feels overburdened by its outsized share of the American military presence in Japan.
There has been a US military presence on Okinawa since the Americans invaded the island during World War II.
- AFP