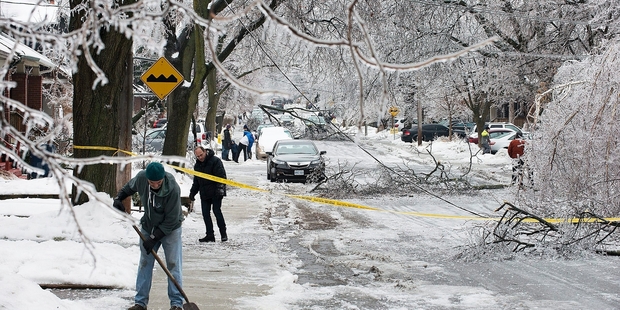 The first full day of winter brought wild weather across North America and the threat of storms in Britain.
In the United States, ice and high wind hit the upper Midwest and northeastern New England states and there was flooding in the South.
Freezing rain across much of eastern Canada turned roads and pavements into skating rinks and wreaked havoc with holiday plans.
Snow and ice knocked out power to 400,000 homes and businesses in Michigan, upstate New York and northern New England, and also left more than 475,000 customers without electricity in eastern Canada.
At least nine deaths were blamed on the storm in the US, including five people killed in flooding in Kentucky, three traffic deaths on slick roads in Oklahoma, and a woman who died after a tornado with winds of209km/h struck in Arkansas. Five people were killed in eastern Canada in road crashes. In Toronto, warming centres were set up and the tram service and parts of the subway system were shut down.
The giant Yorkdale Shopping Centre lost power.
Hydro Toronto said about 300,000 customers were without power.
Anxious passengers found themselves stranded in airports from Toronto to St John's, Newfoundland. Canada's Via Rail advised commuters to expect delays on its routes between Toronto and Montreal or Ottawa, and police warned people to stay off the roads if possible.
Meanwhile in Britain, rail passengers were being urged to travel early because of storms and gales forecast to reach 130km/h which might lead to long delays or some trains being cancelled. Network Rail has issued a speed restriction on tracks for today because of the winds and torrential rain forecast to hit much of the country.
The Met Office has issued flood warnings for parts of the country today and tomorrow, with the Midlands, southwest and south at medium risk. It also said gales of up to 130km/h could be expected in the northwest. Torrential rain has also been forecast.
- Additional reporting AP