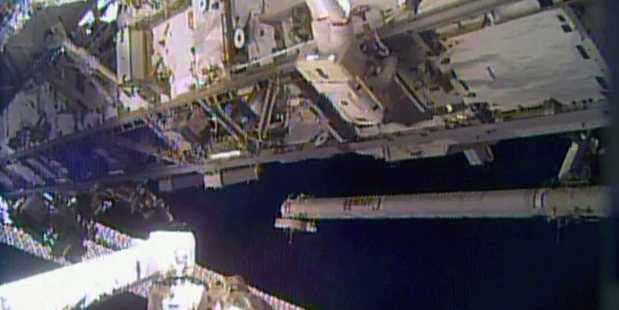 A new flaw has emerged with a United States-made spacesuit, forcing Nasa to delay until Christmas Day the next outing to repair the International Space Station.
The problem came up in a system that handles water condensation in astronaut Rick Mastracchio's spacesuit after he re-entered the space station airlock following a spacewalk yesterday of more than five hours, Nasa said.
It was not the same type of problem that caused a dangerous water leak in the helmet of Italian astronaut Luca Parmitano in July. An investigation into that is continuing.
Faced with unexpected repairs because of an equipment-cooling breakdown at the orbiting lab on December 11, Nasa had arranged makeshift snorkels inside the 35-year-old spacesuits and absorbent pads in the helmets for these spacewalks in case a leak happened again.
AP reported that Mastracchio had inadvertently turned on a water switch in the airlock at the end of the spacewalk. It meant he needed extra time to prepare a spare suit for the next spacewalk.
"During repressurisation of the station's airlock following the spacewalk, a spacesuit configuration issue put the suit Mastracchio was wearing in question for the next excursion - specifically whether water entered into the suit's sublimator inside the airlock," the space agency said.
Now, astronauts are resizing a spare spacesuit on board the space station for Mastracchio, 53, to wear on the next spacewalk to complete a pump replacement.
The outing was planned for tomorrow, but will now take place early on Wednesday, beginning at 1.10am.
Nasa released the news after the first spacewalk by Mastracchio and Michael Hopkins ended with the successful disconnection and removal of the old pump.
The spacewalks were called for after a faulty valve forced a partial shutdown in the system that regulates equipment temperature at the space station.
The space station breakdown 10 days earlier left one of two identical cooling loops too cold and forced the astronauts to turn off all nonessential equipment inside the orbiting lab, bringing scientific research to a near-halt and leaving the station in a vulnerable state.
Nasa officials said it was not clear whether a third spacewalk would be needed, or when it might occur.
During his spacewalk, Mastracchio managed to unhook all the ammonia fluid and electrical lines on the pump with relative ease, occasionally releasing a flurry of frozen ammonia flakes that brushed against his suit. A small O-ring floated away, but he managed to retrieve it.
"I got it, I got it, I got it. Barely," Mastracchio said as he stretched out his hand.
"Don't let that go, that's a stocking stuffer," Mission Control replied.
"Don't tell my wife," Mastracchio said, chuckling, as he put it in a small pouch for rubbish.
"An early Christmas," observed Mission Control as Mastracchio tugged the refrigerator-size pump away from its nesting spot.
- additional reporting AP