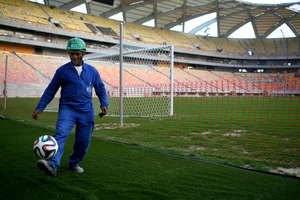 The public prosecutor's office in Brazil's northern state of Amazonia called for an "immediate" halt to construction at the World Cup stadium in Manaus where two workers have died, saying conditions are unacceptably dangerous.
The office released its statement Saturday night after a 22-year-old construction worker plunged to his death at the Arena Amazonia in the early hours.
Marcleudo de Melo Ferreira was the fifth stadium worker at Brazil's World Cup stadiums to die, after a similar tragedy at the same venue earlier this year, a double fatality in Sao Paulo last month and another death last year in the capital Brasilia.
The latest tragedy barely six months from kick-off has heightened safety worries and risks further delaying completion of the required stadiums.
But, in a 13-page critical assessment, the Manaus public prosecutor's office reiterated its demand for an "urgent and immediate halt" to work on the venue, regardless of the looming World Cup start.
The company overseeing construction, Andrade Gutierrez, stopped work Saturday as a mark of respect after Ferreira plunged 35 meters (115 feet) in the early hours while working on the roof of the $200 million, 42,000-seat arena.
The prosecutor's office identified a litany of problems to resolve before work could recommence, noting it had cited several violations of "health and safety worker protection norms" even before the March death of a 49-year-old worker at the venue.
There remained "serious problems" at the venue regarding safety for those working high above the ground, it said.
It pleaded for all "necessary measures to prevent serious and imminent risk" to worker safety, including ensuring scaffolding was properly fixed after identifying irregularities.
"The public prosecutor's office cannot allow the urgency of finishing a construction for the 2014 World Cup to be taken care of at the cost of the life and well-being of those working on it," it said.
Andrade Gutierrez now faces a daily fine of 100,000 reais ($45,000) if it does not fully comply with judicial safety regulations.
Local construction union leader Cicero Custodio said Saturday workers were ready to strike if conditions did not improve.
"Workers at the Amazonia Arena are being ill-treated," said Custodio. "We are being ignored by the authorities.
"It is disgraceful that lives are being put at risk through working night shifts at dangerous sites to make construction deadlines," he added.
Manaus was a controversial choice for a new multimillion-dollar stadium, not least because there is no top club in the area to attract fans after the 2014 event.
In September, one local official suggested the venue might even be turned into a processing center for prisoners for fear it could otherwise become an expensive relic.
Further controversy came following last week's World Cup draw when the mayor of Manaus criticized England coach Roy Hodgson for saying he hoped to "avoid" the venue owing to the intense heat and humidity.
Instead, England must face Italy there on June 14.
- AFP