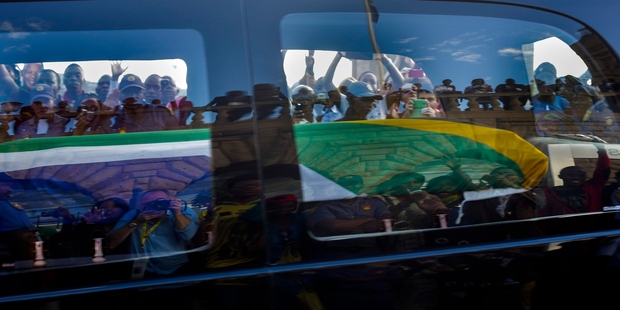 The casket of former South Africa President Nelson Mandela leaves the Union Buildings. Photo / AP
Nelson Mandela's body will be transported from Pretoria to his boyhood village of Qunu for burial on Sunday.
The rural home where Nelson Mandela grew up in the 1920s had mud walls, a grass thatched roof, and a floor polished smooth with cow dung. When throngs flood Mandela's hometown on Sunday for his burial, they will visit a simple place steeped in old ways but which now has become the centre of a massive state operation to honour the anti-apartheid leader.
Read more:
Mandela burial will happen in simple village
Poor lament betrayal of Mandela's great vision
Andrew Austin: Still a long walk to freedom
- AP