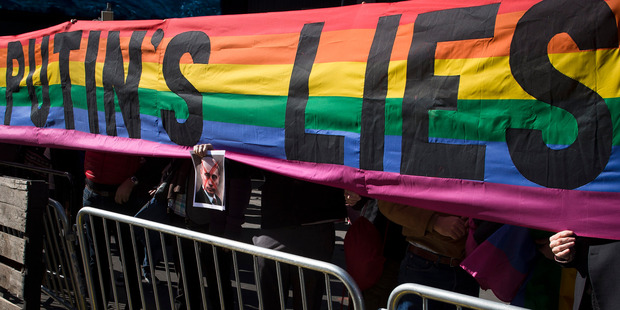 Russian authorities have agreed to go back on President Vladimir Putin's decree that no protests will be permitted at the Olympics in Sochi next February after pressure applied from the International Olympic Committee, IOC president Thomas Bach announced.
Instead there will be a sectioned off area where people will be permitted to voice their protests during the Games that runs from February 7-23 in the Black Sea resort where Putin has a holiday home.
In August Putin, who played a major role in Sochi winning the right to host the Games during the bid race which came to a heady climax in 2007, had issued a presidential decree which forbade any protests to take place over issues that were not linked to the Games.
This followed hot on the heels of the equally controversial law which is seen to be anti-gay and which has prompted calls for a boycott from some quarters, though, Bach rejecting such calls out of hand - he has bitter experience of a boycott as he and his team-mates were unable to defend their fencing title at the 1980 Olympics in Moscow because of a western boycott over the Soviet Union's invasion of Afghanistan.
Bach, who was elected to the post in September succeeding outgoing president Jacques Rogge, has favoured dialogue instead and he said that discussions with the organisers of the Sochi Games had borne fruit as evidenced by the organising committee's announcement on Tuesday that the protestors would after all have an area where they could protest about anything they liked.
"We welcome the announcement of the organising committee which is following some discussions we had with our Russian partners that in Sochi a protest zone will be established," said Bach.
"The space will give people who want to express their opinion or want to demonstrate for or against something the opportunity to do it in a special protest zone in Sochi.
"It will be located in Sochi. It will be open for demonstrations and protests. It is a measure we welcome so that everybody can express his or her free opinion," added the 59-year-old German.
Asked whether the Russian authorities had offered guarantees that no protestors would be punished Bach said that the protest area was specifically designed to prevent such reprisals against protestors.
The organisers have not specified where the area will be and Bach not being over familiar with the geography of Sochi was not able to say whether it would be in the centre or on the outskirts of the resort.
Bach, a lawyer by profession, said that he would not comment on the decisions over the past two days that neither the German President Joachim Gauck nor European Commission vice-president Vivianne Reding would be attending the Games.
Reding had been especially frank saying there would be no way she would attend the Games given the way minorities are treated by the Russian Government at the moment.
Gauck's office denied he was boycotting the Games - although the former pastor and rights activist did go to the London Games - but nonetheless, Germany's human rights commissioner Markus Loening told national news agency DPA that Gauck's decision not to go to the Games was "a wonderful gesture of support for all Russian citizens who are committed to freedom of expression, democracy and civil rights".
Bach was more circumspect in assessing Gauck's absence form the Games.
"Speaking on behalf of the IOC, I can only say this kind of invitation are invitations from governments to governments and it is not up to the IOC to interfere in government relationships," he said.
"The IOC wants its autonomy to be respected and it implies also we respect the sovereignty of the government.
"But on a personal note, I know President Gauck a little bit. He's a man who knows how to use his words, if he would have had something to say from a political prospective, I am sure he would have said this."
Bach said he was confident Sochi would be ready for the Winter Games extravaganza although work remained to be done.
"There is still a lot to do in regard of accommodation, infrastructures, stadias and others issues but we are very confident that everything will be in place."
- AFP