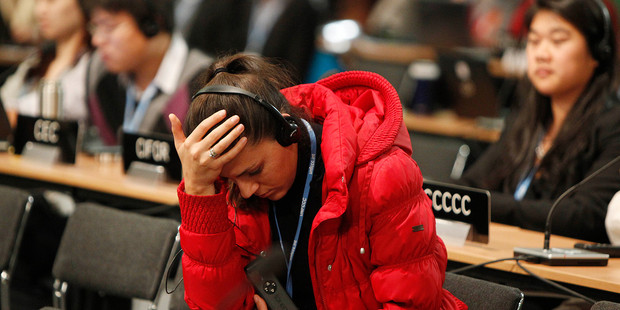 Exasperated green groups walked out of faltering United Nations climate talks in Warsaw yesterday as rich and poor nations bickered about who must do what to curb planet warming.
Negotiators were at loggerheads on the penultimate day of talks over divvying up responsibility for cutting greenhouse-gas emissions and scaling up aid to poor states vulnerable to climate change effects. In a dramatic flourish, six environment and development groups walked out, saying the annual round of talks had delivered little more than hot air since opening on November 11.
"The Warsaw climate conference, which should have been an important step in the just transition to a sustainable future, is on track to deliver virtually nothing," said a statement announcing the groups' decision to "voluntarily withdraw".
The signatories are Greenpeace, WWF, Oxfam, ActionAid, the International Trade Union Confederation and Friends of the Earth. They claimed more than 800 UN-accredited observers were part of the mass protest.
The groups pointed at Poland for its "endorsement" of a global coal summit held in the same city and at the same time as the climate talks. They singled out Japan for slashing its carbon emissions goal, and Australia for its decision to scrap a carbon tax on high emitters. "Governments here have delivered a slap in the face to those suffering as a result of dangerous climate change," said Greenpeace executive director Kumi Naidoo.
Non-governmental organisations attend the talks as observers and advisors. Decision-making is reserved for UN member states. On Thursday, UN chief Ban Ki-moon urged nations to "much bolder" action to stave off an existential peril for the Earth.
Gathering more than 190 nations, the talks are meant to pave the way to a pact by the end of 2015 to limit warming to 2C over pre-industrial levels.
- AFP