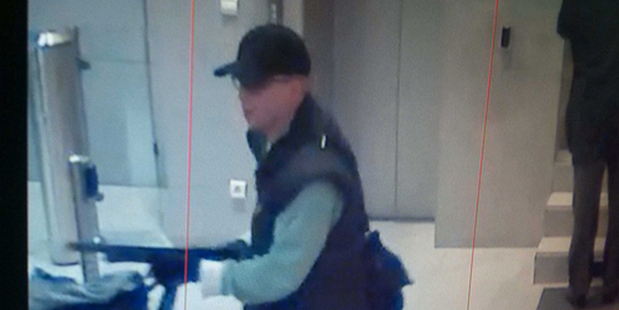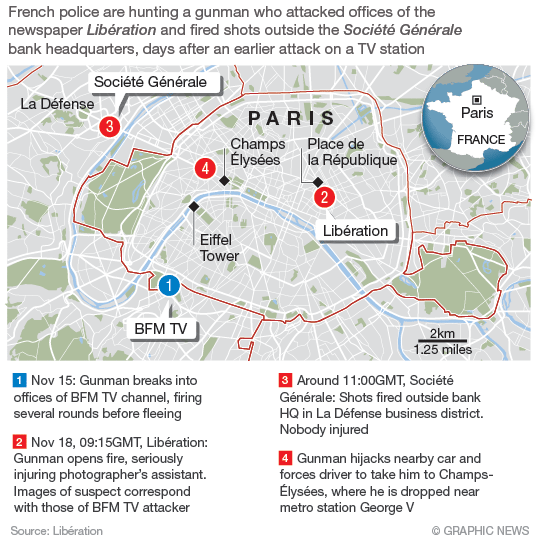 French police have deployed throughout Paris, tracking a lone fugitive gunman who shot and critically wounded a young photographer at the left-wing newspaper Liberation.
After fleeing the daily's office in the east of Paris, the shooter crossed the city to the La Defense business district, where he fired several shots outside the main office of the Societe Generale bank, hitting no one, Paris prosecutor Francois Molins said.
He then hijacked a car and forced the driver at gunpoint to drop him off close to the Champs-Elysees avenue in the capital.
That triggered a huge police operation in and around France's most famous avenue.
Unconfirmed rumours that the man was armed with grenades as well as the hunting-style pump-action shotgun used in the two shootings swept Paris.
There were fears he could seek refuge in the Metro, the city's underground train network.
Police said the 27-year-old Liberation photographer shot was in a critical state in a Paris hospital.
Liberation said the victim had just arrived for his first day's freelance work at the newspaper, as an assistant on a photo-shoot for its supplement Next.
He suffered buckshot wounds to his stomach and chest, the paper said.
The motive for the shooting was unknown.
But police said security camera images of the shooter suggested he was the same man who last Friday stormed into the Paris headquarters of a TV news channel BFMTV to threaten staff.
In that incident, the gunman pumped his shotgun to empty several cartridges on the floor, while warning a senior editor: "Next time, I will not miss you.''
French President Francois Hollande, speaking during a trip to Jerusalem, warned of the danger the gunman presented.
He "could still kill tomorrow or at any time,'' Hollande said.
The gunman was still at large as night fell on the French capital eight hours after the shooting at the newspaper building.
Several hours after the shooting, Liberation's website was heavily disrupted by a cyber attack.
There were no immediate indications the two incidents were related.
The shooting outside Societe Generale's main office took place 90 minutes after the attack at Liberation.
A witness, Francisco Alvarez, told AFP: "I saw this guy with a cap and a shotgun, a pump-action shotgun, in his hand.
"I don't think he was necessarily targeting anyone, he shot in the air then into a window.
"The first shot shocked everyone into silence and then the second caused a general panic.
"Then he ran away down the steps to the street.''
Immediately after the Liberation office shooting, police took up positions outside major media offices in Paris for fear of further attacks.
Liberation journalist Anastasia Vecrin described the scene she encountered on what was otherwise a normal Monday morning.
"I was just arriving for work and I saw a man lying on the ground, holding his stomach and with blood everywhere,'' she said.
"I met two of the reception staff who were completely white and who told me: 'We've just been shot at'.''

-AFP