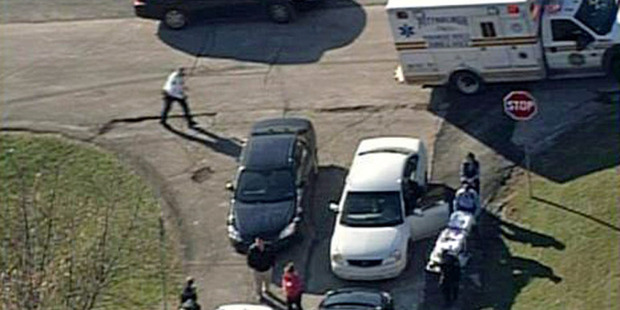 Three US high school students who were heading to their vehicle after classes ended have been shot outside a Pennsylvania school.
Local police are seeking as many as three people and investigating whether the shooting was drug-related, school and police officials said.
All three teenagers were shot outside Brashear High School in Pittsburgh, Pennsylvania, as they walked to a vehicle they'd all taken to school earlier in the day, school district spokeswoman Ebony Pugh said. Nearby residents said they heard seven or eight shots.
The victims' wounds appeared to be non-life-threatening, both Pugh and police spokeswoman Diane Richard said, though their descriptions of the wounds differed slightly. Pugh said two students were grazed in the head and one was shot in both the foot and arm. Richard said one was grazed in the neck and shoulder, but not the head.
Two are 17 and one is 16.
It was not immediately clear who shot the students, or how many gunmen were involved, though Richard said police were searching for as many as three people.
Police believe the shooting might stem from a drug-related fight between some students last month, Richard said. She didn't immediately provide more details.
The victims are all boys, and none immediately spoke or cooperated with police, Richard said. All were listed in good to stable condition at city hospitals, she said.
The student who was shot in the head was found inside the school, though that's because he "made his way back to the school, and was pulled back inside by one of the administrators," Richard said.
She stressed, "There was no shooting at Brashear school. ... The shooting did not happen in the school."
Brashear is a high school with about 1,400 students and 100 faculty. The school was locked down briefly, though students were released to their parents about 90 minutes after the shooting.