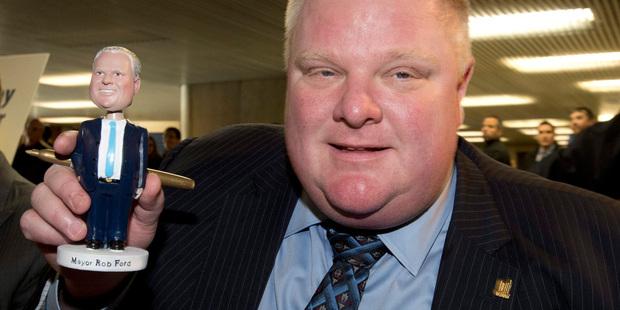 Toronto residents lined up at city hall for a chance to buy a "bobble-head" toy of Mayor Rob Ford, who faces pressure to step aside over drug and alcohol abuse.
The first 300 out of 1,000 limited edition bobble-heads, which went on sale for Can$20 each to support the United Way charity, were signed by the mayor.
"This freak show has a gift shop," Colby Bayne, a real estate agent who waited in line for an hour to buy a bobble-head, told Canadian daily the National Post.
"I don't know if it was worth it," said John Rowland who was third line after arriving just before dawn to buy the so-called "RobbieBobbie."
The mayor of Canada's biggest city has faced mounting pressure to take leave and seek counseling since he admitted to smoking crack cocaine during one of his regular bouts of drunkenness .
His predicament was subsequently made worse by the release of footage of the mayor in an agitated, drunken state, staggering and making foul-mouthed death threats.
On Wednesday, Toronto's city council is scheduled to vote on a motion to censure the mayor over his antics, a move which his brother Doug Ford called a politically-motivated "witch hunt."
"I think this week is going to be very political week with these councillors and we are just going to have to get through it," he said. "It's going to be a public flogging tomorrow."
Doug Ford, who is also a Toronto city councillor, said the mayor is otherwise doing fine. "I'm confident Rob is turning the corner."
"He came by last night after a good work-out. He spoke to some folks over the weekend," he said.
"He doesn't want to be stepping aside for two weeks sitting around, he has to keep busy. He did 114 calls the other day and he's going to continue doing that.
"He has a few things he has to take care of." he added. "Rob had some personal issues that he's dealing with and he's going to get over them."
- AFP