Tycoon's empire crumbles with collapse of flagship oil firm OGX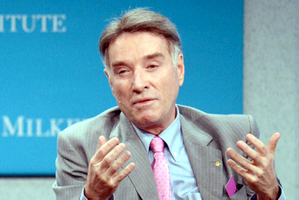 Once Brazil's richest man, Eike Batista's dream of becoming the wealthiest person on the planet went up in smoke with the collapse of his flagship oil firm OGX.
This week OGX filed for bankruptcy protection in Rio to avert default after debt-restructuring talks with creditors failed.
Credit rating agency Moody's said that with OGX's debts of up to US$5.4 billion ($6.5 billion), it would be the biggest bankruptcy protection process in Latin America since 1990.
Known for his passion for speedboats, Batista, who turns 57 tomorrow, came to symbolise the world's infatuation with emerging behemoth Brazil, luring foreign investors to his grandiose oil projects.
The Brazilian tycoon's EBX conglomerate of commodities and energy businesses includes OGX, MPX (energy), LLX (logistics), MMX (mining), OSX (offshore oil and gas services) and other firms.
His companies quickly grew on financial markets thanks to oil production promises that did not materialise and ultimately turned investors away.
"OGX sold very well without having a single barrel of oil," said Marcelo Pereira of Sao Paulo consulting firm Tag Investimentos.
"I fell for it. When you live in a country where huge oil reserves are discovered, why could I not have been blessed with one of them?," Batista said in interview with the Wall Street Journal in September.
A little over a year ago, he ranked as Brazil's richest man and seventh among the world's billionaires.
His net worth was then estimated at US$30 billion but today his wealth has shrunk to US$900 million, according to Forbes magazine.
With most of his assets made up of company shares, his fortune could shrink even further, added the magazine, to which Batista confided a few years ago that he wanted to become "the wealthiest person on the planet".
In early October, Batista's dreams turned into a nightmare when OGX announced it would miss a US$44.5 million interest payment to its international creditors. This week OGX said debt restructuring talks with creditors had failed.
Eccentric and superstitious, this son of a former mines and energy minister and a German mother once launched a book with 10 recipes to become a millionaire.
He is reported to keep a silver sports car parked in his living room in pristine condition, with no one allowed to drive it.
Among his superstitions are an obsession with the number 63 and including the letter X in the names of all the companies within his EBX empire ("X to multiply profits").
He is also known for his generous donations and helped to finance cultural, sporting and environmental projects across Brazil.
He also leads a consortium which controversially won the concession for Rio's iconic Maracana stadium, which will host several World Cup games next year.
Batista has blamed his financial woes on bad luck and also said he was "misled" by some of his aides.
A symbol of the Brazilian success story, he once married a beauty queen and Playboy cover girl. The couple married in 1991 and had two children, Thor and Olin, before divorcing in 2004.
Batista and his elder son, Thor, have a fascination with speedboats and own a 14m kevlar/carbon-fibre catamaran with twin supercharged V8 engines.
In June, Thor was sentenced to pay US$500,000 to the family of a cyclist he ran over and killed in 2012 with his powerful Mercedes-Benz SLR McLaren car. He also had to do community work.
- AFP