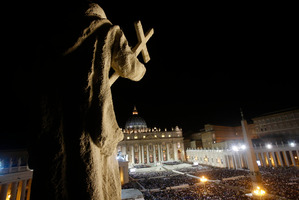 The National Security Agency has been forced to deny it spied on the Vatican after it was claimed that it monitored phone calls during the conclave in which Pope Francis was elected.
A spokesman for the agency dismissed claims made by Panorama, an Italian weekly magazine, which said that the NSA monitored the telephone calls of many bishops and cardinals at the Vatican in the lead-up to the conclave, which was held amid tight security in the Sistine Chapel.
"The NSA does not target the Vatican. Assertions that NSA has targeted the Vatican, published in Italy's Panorama magazine, are not true," agency spokesman Vanee Vines said.
The allegations from Panorama follow a report on Cryptome, a website that gathers intelligence on surveillance and national security, which claimed the US intercepted 46 million telephone calls in Italy between December10, 2012 and January 8, 2013. The monitoring of communications, including emails, continued after Pope Benedict's resignation in February and encompassed the election of Pope Francis.
"It is feared that the great American ear continued to tap prelates' conversations up to the eve of the conclave," the weekly magazine said. It added that there were "suspicions that the conversations of the future Pope may have been monitored", but provided no hard evidence or quoted sources for the claim.
Leaks by Edward Snowden, the fugitive former US intelligence operative who has been granted asylum in Russia, have suggested the NSA conducted extensive spying on several European countries in addition to Italy, including Spain, France and Germany.
The revelations have seriously strained relations between the US and its European allies and trade partners. Two German envoys were to hold talks with US officials in Washington on rebuilding a "basis of trust" after alleged tapping of Chancellor Angela Merkel's phone.
Separately, reports claimed yesterday that the NSA secretly tapped into the main communications links that connect Yahoo and Google data centres around the world, enabling it to collect information from hundreds of millions of user accounts.
Google said it was "troubled by allegations of the Government intercepting traffic between our data centres, and we are not aware of this activity." A Yahoo spokesman said: "We have strict controls in place to protect the security of our data centres, and we have not given access to our data centres to the NSA or to any other government agency."
General Keith Alexander, the NSA director, dismissed the report, saying the NSA is "not authorised" to do this.
- Additional reporting, AP