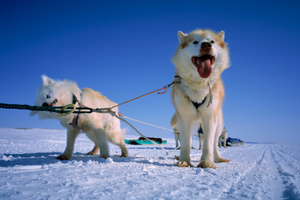 Legendary Australian Antarctic explorer Sir Douglas Mawson may have starved one of his companions to death and then eaten his flesh, according to a new book by an award-winning historian.
In Flaws in the Ice, Melbourne-based David Day also claims Mawson dodged active service during World War I, and had a torrid affair with the widow of Sir Robert Scott, the British explorer.
Mawson headed the first Australian-led Antarctic expedition, and survived an epic lone sledging journey. However, in an earlier book Day argued that the explorer's "ambition and inexperience" played a large role in the deaths of his two fellow team members, Belgrave Ninnis and Xavier Mertz.
In the new book, he raises more serious questions about Mawson's conduct during the 1911-14 expedition to map more than 1000km of the Antarctic coastline. As the men were returning to base, Ninnis fell to his death down a deep crevasse, taking with him a team of husky dogs, a tent and a sled containing most of their remaining food. With 160km still ahead of them, Mawson reduced rations for himself and Mertz.
Day asks: "Had Mawson come to the terrible conclusion that there was only sufficient food for one of them to get back to the hut alive?"
Three weeks later, Mertz died, and two days after that Mawson recorded in his diary that he had "boiled all the rest of [the] dog meat". He and Mertz had been killing and eating their huskies. Day notes, though, that the last dog was shot two weeks earlier.
Day claims that, despite spearheading a conscription drive in Australia, Mawson was reluctant to join up himself. Posted to the War Office in London in 1916, and with his wife and baby back in Australia, he enjoyed a "mad summer of love" with the attractive and bohemian Kathleen Scott.
Australian adventurer Tim Jarvis, who retraced Mawson's steps in 2007, rejected Day's findings. The explorer's great-granddaughter, Emma McEwin, suggested he was trying to "besmirch Mawson's name".