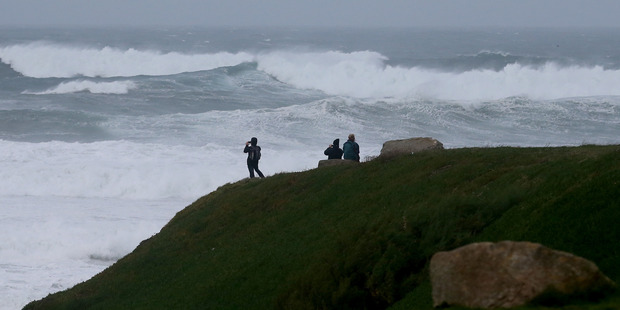 Britain is facing travel chaos and more than 10,000 homes are without electricity in northwestern France as a massive storm sweeps in from the Atlantic Ocean.
Britain's national weather centre the Met Office has warned of falling trees, damage to buildings and disruption to power supplies and transport as the storm hit England's southwest coast on Sunday night.
Between 20mm and 40mm of rain is predicted to fall within six to nine hours as the storm tracks eastwards across Britain.
It will be followed by widespread gusts of 97 to 113km/h across southern England and south Wales, with winds reaching more than 130km/h in some areas, forecasters say.
The Met Office issued an "amber'' wind warning for the region, the third highest in a four-level scale, and urged people to delay their Monday morning commute to work to avoid the worst of the bad weather.
In northwest France more than 10,000 homes were without electricity early on Monday after wind gusts reached 133km/h in some areas knocking down power lines but no major damage or injuries.
London looked set for a chaotic rush-hour after train companies First Capital Connect, C2C, Greater Anglia, Southern and Gatwick Express services all said they would not run services on Monday until it was safe to do so.
Network Rail has warned commuters to expect severe disruption and major airports also warned of disruption to flights with London hub Heathrow expecting approximately 30 cancellations.
Cross-channel train service Eurostar says it will not be running trains on Monday until 7am.
Ferry operators say they have cancelled some cross-Channel services and Irish Sea crossings.
Meanwhile, the rough conditions led to rescuers abandoning the search for a 14-year-old boy who was washed out to sea from a beach in East Sussex on England's south coast.
Britain last experienced similar wind strengths in March 2008, but forecaster Helen Chivers told AFP the expected damage was more comparable with a storm seen in October 2002.
Prime Minister David Cameron received an update from officials on contingency planning in a conference call on Sunday, amid fears of similar damage wrought by the "Great Storm'' of October 1987.
That left 18 people dead in Britain and four in France, felled 15 million trees and caused damages worth more than 1 billion as winds blew up to 115 miles an hour.
Martin Young, chief forecaster at the Met Office, said: "While this is a major storm for the UK, we don't currently expect winds to be as strong as those seen in the 'Great Storm' of 1987 or the 'Burns Day storm' of 1990.
"This weather system is typical of what we expect to see in winter but as it's coming in during autumn - when trees are in leaf - and while the ground is fairly saturated, it does pose some risks.
"We could see some uprooted trees or other damage from the winds and there's a chance of some surface water flooding from the rainfall - all of which could lead to some disruption.''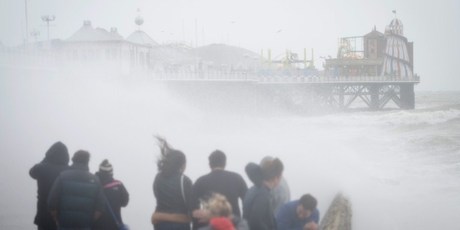 Veteran weather forecaster Michael Fish also said Sunday's storm was unlikely to be as severe as 26 years ago, although his comments will be taken with a pinch of salt in Britain.
Fish was the BBC's main television weatherman in 1987 but famously denied that a major storm was on its way just hours before it hit.
This year's storm has been named St Jude after the patron saint of lost causes, whose feast day is on Monday.
It is likely to affect northern France before heading off towards Denmark, forecasters said.
- AP / AFP