The EU chiefs at summit condemn 'out of control' US surveillance of their governments after whistleblower reveals as many as 35 world leaders were monitored
Europe's leaders have turned their wrath on the United States, condemning as unacceptable the alleged "out of control" spying on citizens and governments, as it emerged that the phone calls of up to 35 world leaders could have been monitored by Washington's security agencies.
Claims of widespread surveillance of phones, email and social media made in leaks by Edward Snowden, the former contractor with America's National Security Agency (NSA), have already caused deep rifts between the US and nations including Brazil and Russia.
But it appears that not even Washington's closest friends are immune from the snooping. On Thursday the German Chancellor, Angela Merkel, called President Barack Obama to take him to task over reports that the NSA had bugged her mobile phone, in a scandal that could threaten trade and security ties between Washington and its closest allies.
The issue is particularly sensitive in Germany as widespread bugging by the Stasi in East Germany, as depicted in the movie The Lives of Others, has left people deeply mistrustful of the motives behind state surveillance. Merkel grew up in East Germany.
As EU leaders gathered in Brussels for a summit which has been overshadowed by the hacking allegations, more revelations emerged that the NSA had been handed the phone numbers of 35 unnamed world leaders by an official in another government department.
A memo from 2006 sourced to Snowden and published by the Guardian said that US government employees were encouraged to mine their contact books for the land line, fax or mobile numbers of "foreign political or military leaders" and pass on the details on to the NSA.
One employee subsequently handed over more than 200 contact numbers. While it was unclear from the memo if the phones of the leaders were ever tapped, it says that the numbers resulted in "little reportable intelligence" as they "appear not to be used for sensitive discussions". The intelligence did, however, provide "lead information to other numbers".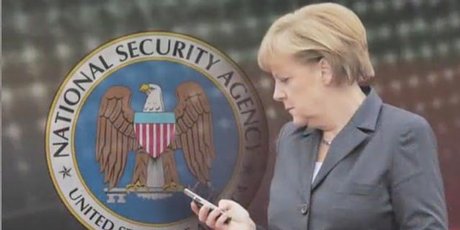 The fresh accusations came days after French media reported that the NSA had monitored more than 70 million phone records, text messages and private conversations in France in one month alone, propelling the issue to the top of the agenda at a summit in Brussels.
"I have ... made it clear to the President of the United States that spying on friends is not acceptable at all," Merkel said as she arrived at the summit. "We need to have trust in our allies and partners and this trust must now be established once again.
To this end, we need to ask what we need, which data security agreements we need, what transparency we need between the United States of America and Europe."
Germany's foreign ministry had earlier summoned the US ambassador to explain the situation, after a White House statement that they were not currently, nor would in future, bug her phone failed to satisfy Berlin that no surveillance had taken place in the past.
Merkel and the French President, Francois Hollande, held a meeting on the sidelines of the Brussels summit to craft a joint position on the issue, while their counterparts rallied round them.
"I will support her [Merkel] completely in her complaint and say that this is not acceptable," said the Dutch Prime Minister, Mark Rutte.
The Belgian Prime Minister, Elio Di Rupo, said the EU needed to take concrete action: "We cannot accept this systematic spying ... We need to take measures and I can't imagine measures at the national level. We need to take European measures."
British Prime Minister David Cameron stayed silent as he entered the summit. The British spy agency GCHQ has also been accused of snooping on allies, including hacking into the Belgian telecoms firm Belgacom, which counts the European Union institutions as clients.
British officials insist that national security is a matter to be dealt with bilaterally between individual EU member states and the US, but other nations are calling for united action.
Martin Schulz, the President of European Parliament and a politician with the German SDP party, said that US secret services were "out of control" and suggested that recently-launched free-trade talks between the EU and US could be hampered by the breakdown in trust.
Exactly what action Europe can take remains unclear. The free trade pact would bring great economic benefits to the EU as it tries to haul itself out of recession. The European Parliament on Thursday recommended that the EU retaliate by suspending a bank data sharing agreement aimed at detecting terrorist fund-raising, but that move has not gained much support from members states. EU leaders are also mulling beefing up data protection laws.
The NSA allegations have already damaged relations with Russia, which granted Snowden asylum, and Latin American nations. Brazil's Dilma Rousseff cancelled a state visit to the US in protest at the snooping allegations. News of the alleged hacking sparked outrage in Germany, where newspapers carried front page editorials condemning the intrusion.
- Independent