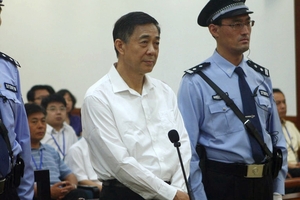 As Bo Xilai stood in court to receive his life sentence last month, there could be no mistaking the faint smile of the Chinese politician who seemingly fell victim to his own political success.
But despite the unusually public nature of his demise, many in China were unconvinced that the man appearing in court would serve the punishment. Throughout the trial, posts on social media demanded to see pictures of Bo in his cell to prove that he was really there. The online claims levelled against his wife, Gu Kailai, at her trial hinted at a greater level of deception - that she was not in court at all.
These allegations may seem far-fetched, but they are based on what many perceive to be a growing phenomenon. Media reports of ding zui (literally "substitute criminal"), where hired stand-ins take the place of offenders, suggest that such immunity to the legal process can be acquired with sufficient money or influence.
A 2009 case involving an official in Anhui province showed the influence that the powerful can exert to redirect blame.
Reversing his car at high speed, the former head of Yijiang's district court, Ding Shuming, killed one person and injured two others in a road accident. He arranged for his usual driver, Zhong Ming, to report the incident to the police and take responsibility for the accident. Zhong agreed, though a late act of conscience from Ding two days later ensured that the right man appeared in court. He received three years' jail.
Other attempts at ding zui give an indication of the sums of money that may be involved. An uninsured coach driver in Gansu province, Li, killed one person and injured another after he crashed into the back of a motorcycle in July 2012. As he awaited the police, Li pleaded with one of the coach's passengers to take his place and go to court, offering 150,000 renminbi ($29,000) in return. As the evidence was prepared for the hearing, inconsistencies emerged. Only after several rounds of questioning did the passenger confess to the scam leaving Li to face trial.
Such attempts at ding zui are publicly reported by China's domestic media, despite the notoriously opaque legal system. But it is impossible to ascertain how many instances are discovered at a stage that would imply official failures and thus dissuade courts from releasing the information.
An openly reported case in neighbouring Taiwan demonstrates the drastic extent to which the practice could be exploited in mainland China. Guo Ronghui, a 25-year-old destitute drug addict, was a professional body double. Because he had been diagnosed with leukaemia, Guo was eligible for "medical parole", exempting him from serving time for minor offences. He exploited this loophole, acquiring 172 separate criminal records as a stand-in. He was sentenced numerous times, mainly on others' drug and firearms charges, and accumulated prison sentences amounting to more than 48 years. None was were served. Guo typically charged his clients the equivalent of $10,000 to $20,000 per case.
Dire financial circumstances push stand-ins into becoming willing scapegoats. The amount offered can vary hugely. In mainland China a demolition company owner charged with illegally destroying a house promised an impoverished body double around $38 a day for each day spent in jail on his behalf.
The pressure of loyalty in a hierarchical society and the promise of sizeable payoffs provide somewhat diverse motivations for substitute criminals. But it is failings in the Chinese criminal justice system that may be encouraging the phenomenon to flourish, says associate law professor at the Chinese University of Hong Kong, Eva Pils. "You have a system that is in effect tolerant of false confessions. The trial should be held to determine whether the defendant is guilty or not but ... it becomes a merely bureaucratic process, a procedure to go through."
Given that the acquittal rate in Chinese courts is less than 1 per cent, if a substitute criminal makes it to the stand, then the chance of exposing ding zui falls drastically. The lack of judicial transparency, infrequent use of witnesses and officials turning a blind eye to the practice make it a viable option for the accused.
- Independent